(Monday/Tuesday blog)
Here's a lovely, heart-warming story from one of the advanced world's most civilised countries.
A woman who defended herself against rape was hanged this week in Iran, according to the Women's Committee of the National Council of Resistance of Iran (NCRI).
Somayyeh Shahbazi Jahrouii, 33, had been imprisoned for six years. She had committed murder in self-defense against rape, according to her relatives.
Somayyeh Shahbazi Jahrouii was hanged at dawn on Wednesday, December 4, 2019, in Sepidar Prison of Ahvaz, capital of Khuzestan Province. 
Her death brings to 98 the number of women executed by Iran's regime since supposedly 'moderate' Hassan Rouhani took office as President in 2013:
Iran's regime is the world's top executioner of women. So far in 2019, it has executed at least 11 women, more than it had done in previous years. It had executed at least six women in 2018, ten in 2017 and nine in 2016. So Iran is hoisting almost one woman per month – odd that we haven't heard a peep of protest from Western woke feminists.
The Iranian regime has executed at least 4,000 people under Rouhani. That's almost two people a day. Odd that we haven't heard a peep of protest from the holier-than-thou, virtue-signalling progressive libtards.
Some people believe that it's because of the Iranian regime's failure to categorize deliberate murders according to their degree, anyone convicted of murder in Iran is sentenced to death, regardless of their motives. Many of the women convicted of murder in Iran are themselves victims of violence against women and have committed the murders in self-defense. Though I suspect that anyone criticising the crazy old men who run the country or even anyone who accidentally farts in the direction of Mecca gets the hangman's rope.
But Iran isn't the only country where the crowds enjoy the sight of women swinging from the gallows: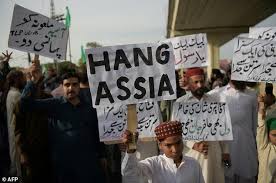 I've been trying to think what Iran and Pakistan have in common such that both countries like a good female hanging. But I just can't quite put my finger on it.
Anyway – back to Iran. Perhaps the Iranian Tourist Authority should have a new slogan:
Want to see what life was like 2,000 years ago? Visit Iran.
Iran – putting the 'evil' into medieval!