(Monday blog)
I thought I'd start the week with a bit of light entertainment. We all need a bit of cheering up every now and then.
But before I do, I'm really excited because I've realised that I can predict the future:
I can predict the future
We all saw yet another wonderful episode of multi-cultural enrichment which happened on London Bridge last week thanks to a valuable member of British society doing what he does best: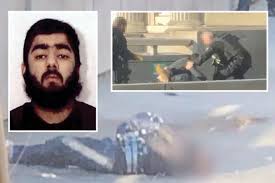 And now questions are being asked about why this piece of sh*t was allowed out of prison a year before he had served even half his 16-years sentence.
Well, I predict our rulers will promise "a full and thorough investigation" which will "leave no  stone unturned" and which will result in us being assured that "important lessons have been learnt". Then nothing will change and we'll continue abasing ourselves to those who hate us and want to kill us to show how liberal and progressive and diverse and multi-cultural we are. Meanwhile, all those responsible for letting this subhuman excrement out to kill innocent people will be promoted out of trouble keeping their generous public-sector salaries and even more generous public-sector pensions.
I also predict that the (IMHO) utterly useless, always politically-correct top cop Neil Basu, Assistant Commissioner for the Metropolitan Police (and the dismal Cressida Dickless Dick's sidekick) will continue to claim that supposed 'right-wing' terrorism is "the fastest growing threat" to the British public even though there haven't actually been any 'right-wing' terrorist attacks.
How's that for predicting the future?
Lying scum liars lies and lies and lies and ……
And, now for some light entertainment. Here are some of our rulers promising to abide by the result of the 2016 EU Referendum.
This video should be played every time a politician is interviewed on TV. But strangely, the promises given in this video are never mentioned by the UK-hating, EU-loving, biased BBC and C4 News.
Enjoy!!!!!!