(Thursday blog)
I believe the first lesson in any weapons training course is something like:
"Never look down the barrel of your own AK47 wondering where the bullet is – you might find it".
The link below takes you to a 11-second video in which the fine bearded chappie featured seems to have forgotten his Jihadi weapons training – Lesson One.
This might be a problem for him. Although I'm not a great Izlumic scholar, I believe you only get your 72 virgins if you are killed slaughtering people in the name of your god: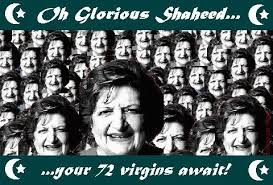 But if you blow your own head off because you're an idiot, it's no virgins for you.
Anyway, here's the video.
Enjoy: