(Thursday blog)
Happy International Pronouns Day to you all
I apologise. I've missed yet another important day in your lives – International Pronouns Day.
Yes, last Thursday – 17 October – was International Pronouns Day. How could I have forgotten? How could I have been so remiss?
International Pronouns Day is an incredibly important day. Here's some (IMHO) ludicrous, incompetent, politically-correct, common-purpose, over-promoted, under-talented buffoon (probably promoted because she – like the pointless Cressida 'Dickless' Dick – is a woman and possibly a l****** – who knows?) big boss of the Cheshire Police telling us how important International Pronouns Day is:
I am slightly confused as to why this (IMHO) complete waste of skin in a police uniform is lecturing us about International Pronouns Day. After all, is it a crime to 'misgender' someone? Is it a police matter if I accidentally refer to a (IMHO) mentally-disturbed, confused, self-obsessed, narcissistic, transgender freak as 'he' or 'she' rather than 'ze'? After all, maybe such a creature self-identifies as a 'he' today and a 'she' tomorrow and a 'ze' or whatever the day after. How are the rest of us expected to keep up?
And while this (IMHO) piece of over-promoted, useless garbage is wittering on about International Pronouns Day, the area ze is supposed to be policing has had the highest rise in violent crime of any police area in Britain – up over 40% in just one year. But, of course, police-uniformed (IMHO) laughable, pompous, brain-dead idiots like this seem not to consider real crime as something that forms part of their job description. Nope, supposed offences like 'misgendering' are far more important to these clowns than people being raped, robbed, mugged, stabbed and murdered.
Confused about your sex?
I appreciate that in today's politically-correct lunatic asylum Britain some readers may be confused about what sex or gender they are. So I've produced a simple pictorial guide to help you all find out which sex/gender you are.
There are, as far as I know just two sexes/genders and not up to 100 as the BBC claims.
If you've got one of these, then you're a female:
If you've got one of these you're a male: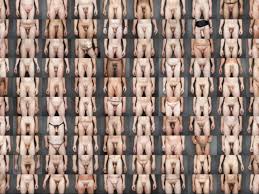 And if you look like this: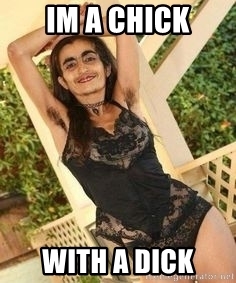 then in my humble opinion you need to go and see a psychiatrist