(Thursday blog)
Lying, treacherous scum?
Hopefully you've all seen this photo. Apparently it was taken yesterday morning at the Eurostar train terminal: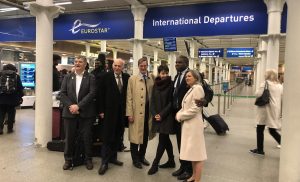 It features a bunch of Remainers – Grieve, Cable, Lammy and a Scrot, an ecoloon and a Sheep-Sh****r all off to Brussels at our expense. And why were they going to Brussels? Could it have been to persuade the EU to not offer a deal to Boris Johnson? Could it have been to delay Brexit to both humiliate Boris Johnson and to give the Remainers the time to organise a new EU referendum where the choice would be Remain or Remain?
As this bunch of (IMHO) lying, UK-hating, europhiliac scumbags are probably working against the British Government, surely they must be guilty of treason? Surely they should be arrested and dragged before the courts?
Grovelling to the Religion of Peacefulness or protecting Christians?
You might sometimes have wondered who is the greatest protector of the world's second most persecuted religion – Christians. You might have thought it was the old guy in the Vatican who likes to dress up in women's clothing.
But, unfortunately for persecuted Christians, the decrepit cross-dresser seems to spend much of his time protecting Catholic pedophiles and grovelling to those who hate Christians and would have them all killed (once they've finished killing all the Jews):
Now let me show you a simple chart. It features the number of refugees allowed into the America during the last 17 years:
Hopefully you'll see four things:
high/record levels of immigration under Imam al-Obama
rapidly-increasing numbers of Muslims entering the USA under Imam Hussein al-Obama
a massive drop in immigration under Trump
the massive drop in immigration under Trump being mainly amongst Muslim refugees
And here's a link to a short (2 minutes) video showing why Trump is a protector of the world's second most persecuted religion – Christians. It's wonderful. No politician would dare say and do the things that Trump is willing to say and do to protect Judeo-Christian Western civilisation from the destructive, West-hating, invading Third-world hordes:
https://d.tube/#!/v/vladtepesblog/QmfFNNFSf8uigRjesp8sfG9FzFPHUSGMWoVur7zybewVtN