(Thursday blog)
Sunshine beach holidays in Greenland?
On C4 News last night, we had Alex Thomson and Matt Frei bleating and moaning about melting glaciers in Greenland and the supposed "Climate Emergency".
But maybe these two great, world-famous climatologists – Alex Thomson and Matt Frei – are right? After all, here's part of a newspaper article a kind reader alerted me to:
"The Arctic Ocean is warming up, icebergs are growing scarcer and in some places the seals are finding the water too hot according to a report to the Commerce Department yesterday from the Consulate at Bergen, Norway.
Reports from fishermen, seal hunters and explorers all point to a radical change in climate conditions and hitherto unheard of temperatures in the Arctic zone. Exploration expeditions report that scarcely any ice has been met as far North as 81 degrees 29 minutes. Soundings to a depth of 3,100 meters showed the gulf stream still very warm.
Great masses of ice have been replaced by moraines of earth and stones, the report continued, while at many points well known glaciers have entirely disappeared. Very few seals and no white fish are found in the eastern Arctic, while vast shoals of herring and smelts which have never before ventured so far north, are being encountered in the old seal fishing grounds.
Within a few years it is predicted that due to the ice melt the sea will rise and make most coast cities uninhabitable."
Frightening stuff, huh?
There's only one slight, niggling problem. I neglected to mention that this report was from November 2, 1922, as reported by the AP and published in The Washington Post 97 years ago: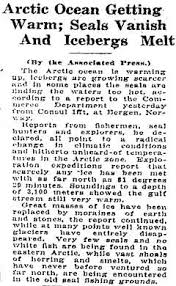 In fact, the situation was so serious in 1922, you might have thought we could all soon be having TUI beach holidays in Greenland:
Of course, this great 1922 warming apocalypse never happened. The Earth warms and cools in cycles and so the Arctic ice was soon back and the predictions of climate disaster and flooding of coastal cities due to melting ice were shown to be utter bollox promulgated by supposed 'scientists' desperate for lucrative research funding and lying, self-serving mainstream-media journalists desperate to advance their own lousy, pitiful careers.
The 1939 Global Warming scare
However, the absence of a Global Warming panic didn't last long. By 1939, the supposed 'scientists' and the pig-ignorant journalists were at it again: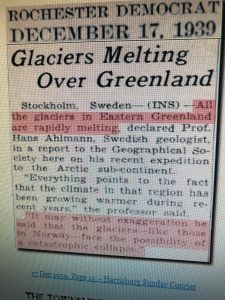 And once again we were terrified by the warnings of a "catastrophic collapse" in the Greenland glaciers – precisely the same warning 'climatologists' Alex Thomson and Matt Frei were making on C4 News yesterday evening.
The 1952 Global Warming scare
Then there was yet another Global Warming scare in 1952.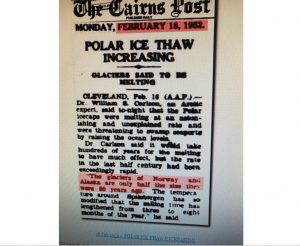 I guess many scientists use the 'broken clock' principle of forecasting – if they stick with one scare story for long enough, eventually it will actually happen and they'll be proved right and they can claim incredible powers of predicting the future.
It's cooling – we're all doomed!!!!
But by 1961 all the scientists who had confidently predicted 'catastrophic' Global Warming in 1922, 1939 and 1952 seemed to give up on predicting Global Warming and were now just as confidently predicting 'catastrophic' Global Cooling: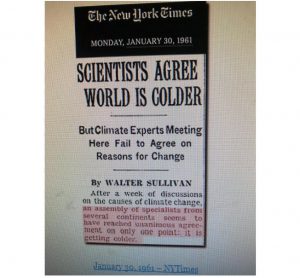 And the general consensus was that a new Ice Age was coming which would result in crop failures, starvation and a mass movement of millions towards warmer countries:
It's warming – we're all doomed!!!!!
And now, of course, the 'scientists' seemed to have changed their story yet again. So we have "97% of scientists" plus Nobel Laureate Al Gore and Saint Greta Thunberg – patron saint of brainwashed snowflakes – assuring us that we're doomed if we don't stop Global Warming:
And the only way we can survive is by moving to the Antarctic:
100 years of climate hoaxes?
It's almost 100 years since the 1922 Washington Post article about supposed Global Warming. Since 1922, we've had climate scare after climate scare – all enthusiastically promoted by grant-hungry, figure-fiddling, fake scientists and attention-seeking, self-serving, careerist, third-rate journalists. And none of the scientists' or journalists' predictions have actually happened.
And yet most people seem to be falling for the latest climate hoax.
It's beyond a farce.