(Tuesday blog)
C'mon baby light my fire
Aaaarrrggghhh!!! The Amazon rain forest is burning! The Earth is on fire! The Earth's lungs are being destroyed! We're all going to die!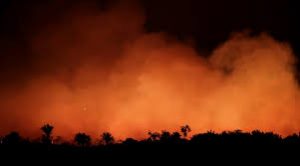 And it's all our fault 'cos we in the West are eating too much beef. Thus spake a greeny eco-loon from Greenpeace on the BBC News yesterday morning much to the approval of the two dumb-ass, woke, holier-than-thou, libtard, BBC presenters.
But hold on a minute? Isn't there something the can't-think-for-themselves, brain-washed, BBC eco-ass-holes seem to have forgotten? Isn't there something they haven't mentioned? (Regular readers will know what's coming next)
Yup, here it is – a graph of Brazil's explosive population growth: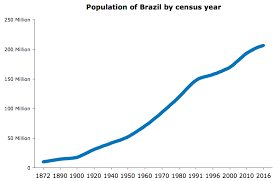 In 1960 there were around 50 million Brazilians. By 1980, there were over 100 million. By 2010, there were about 200 million. Now there are around 210 million Brazilians. By 2050, there could easily be 400 million Brazilians!
(I've only been to Brazil twice. First as a tourist when I was mugged and robbed twice on my first day. The second time I was there on business and wasn't mugged or robbed as I had an armed guard)
Anyway, while the population of the developed West is declining and meat consumption is actually going down, the meat-eating population of violent, corrupt, Third-World dump Brazil is exploding. And tens of millions more Brazilians eating more meat inevitably leads to pressure to cut and burn down more forest to bring more land into cultivation.
Umm, so maybe it's not really our fault in the West after all? Maybe it's the Brazilians who are to blame? But to suggest that a rapidly-increasing Brazilian population is actually to blame for the rain-forest destruction would be politically-incorrect. If anyone did dare mention this , they would immediately be branded by the BBC and C4 News as racist and colonialist and neo-colonialist and fascist and imperialist and white-supremacist and fascist and a few other 'ists' I probably haven't heard of yet.
Thus there is total silence. Nobody in the mainstream media dares contradict a Greeny eco-loon when they are interviewed. Instead the Greeny supposed 'experts' are encouraged to paint the worst possible scenario in order to terrify us ignorant plebs into submission. Thus nobody dares suggest a little bit less f**king and a little more birth control in Brazil. To suggest this in today's Big Brother environment of political correctness would be career suicide.
The real inconvenient truth?
Again, regular readers will know what comes next. Yawn, yes here it is again – the graph of slow population decline in advanced, wealthy, prosperous Europe vs explosive population growth in blighted, poverty-stricken, excrement-covered Africa:
As Brazil and Africa and many other utter sh*t-holes have shown – rapid population growth leads to massive environmental destruction, poverty and crime. This, in turn, leads to millions trying to flee the hell-holes their own stupidity and ignorance have created. And where will they flee too? Of course, they'll flood into the developed West which they will then reduce to the same excrement-covered hell-holes from which they have come.
Silence from Saint Greta
Isn't it wonderful. Saint Greta – patron saint of scientifically-challenged, brainwashed snowflakes – is somewhere in the Atlantic on a multi-million dollar yacht and so we haven't heard any of her garbage for over a week now. Talking of Saint Greta, here's a picture a reader alerted me to: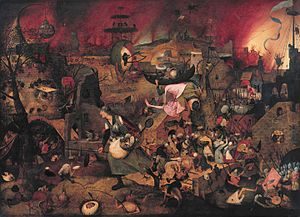 The picture is called Dulle Griet (in English that would be Dull Greta or maybe Stupid Greta). Dull Greta was also known as Mad Meg and is a figure of Flemish folklore who is the subject of a 1563 oil-on-panel by Flemish Renaissance artist Pieter Bruegel the Elder. The painting depicts a virago, Dulle Griet, who leads an army of women to pillage Hell.
Of course, there is no resemblance at all between Saint Greta the Crazy and Dull Greta (Mad Meg) in the picture.