(Bank holiday weekend blog)
They say that a picture is worth a thousand words. So here, instead of a thousand words, is a picture (well, actually two pictures):
You have to admire the genius of the eco-fascist Nazis. They've tried to terrify us into submission by warning of supposed "Man-Made Global Warming". But then the Earth stopped warming for about 12 years. No problem, the eco-fascist Nazis dropped "Man-Made Global Warming" and replaced it with "Man-Made Climate Change". So, whatever the weather, the eco-fascist Nazis could howl and yell about impending disaster and nobody could really contradict them.
But the climate didn't actually change and we ordinary people weren't really frightened enough to adopt the eco-fascist Nazis' lunatic policies of total de-industrialisation and the destruction of Western civilisation. No problem. The eco-fascist Nazis just replaced the insufficiently frightening "Climate Change" with the more shrill "Climate Crisis" and even went as far to scream and yell about "Climate Breakdown" and even the totally ludicrous "Extinction" as if the increase of a trace gas, CO2, in the atmosphere by 0.0002% a year could have the slightest influence on the Earth's climate.
But the real genius of the eco-fascist Nazis was to copy the example of their favourite role models – the German fascist Nazis – and front their campaign of terror and control with a young girl in pigtails:
And so we got the world's greatest ever climate scientist – Greta Thunberg – who doesn't even bother going to school:
Saint Greta – the patron saint of brainwashed, selfie-obsessed, scientifically-illiterate, moronic snowflakes – is the perfect poster girl for the eco-fascist Nazis because we can't attack her indoctrinated bollox for two key reasons:
she is a young girl
her parents claim she has almost every psychological problem known to mankind
So, to criticise Saint Greta would be seen as adults bullying a vulnerable child. But even worse, now we have politicians and media grovelling at Saint Greta's every word: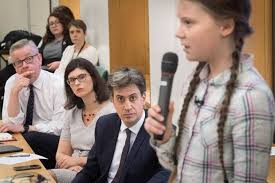 And so the crazed Saint Greta is off to New York to save the world from a totally imaginary threat and she'll be fawned over by our political and showbizz elites as they fly around the world in their private jets while passing new laws preventing us worthless, taxpaying plebs from travelling by plane or soon maybe even by car.
Hopefully such brave eco-warriors such as Harry the Prince of Hypocrites and Emma 'First-class-flights' Thompson will jet off to New York to hear crazy Saint Greta's increasingly unhinged rantings.
But while the West swallows mad Saint Greta's total and utter garbage, our competitors are building coal-fired power stations to fuel all the industries we are closing down in the West and thus moving mainly to Asia:
China has 2,363, building 1,171 more… Total 3,534
South Korea has 58, building 26 more… Total 84
Japan has 90, building 45 more… Total 135
Turkey has 56, building 93 more… Total 149
South Africa has 79, building 24 more… Total 103
India has 589, building 446 more… Total 1,036
Philippines has 19, building 60 more… Total 79
That's 1,865 new coal powered plants being built in just 7 countries.
Britain has 0, building 0 more… Total 0
And our elites and mainstream media believe the crazed, robotic, carefully pre-programmed Saint Greta that by committing economic suicide we'll save the planet. Our competitors must be laughing at our stupidity.
This would be comic if it wasn't so tragic.