(Thursday blog)
Nein, nein…….vielleicht
Remoaners must be tearing their hair out. Boris was in Germany with Merkel yesterday and the sore loser Remoaners (plus the europhiliac BBC and snarling, UK-hating idiots at C4 News) expected Merkel to give Boris a very firm "nein, nein, nein" when Boris insisted the Irish backstop must be scrapped. But, to the utter amazement of the craven, surrender-monkey EU-adorers, Merkel didn't do her "nein, nein, nein" act. Instead, she intimated that another solution to the Northern Irish border issue could be found.
Today Boris will meet the (IMHO) arrogant, self-important, necrophiliac Macron who will, of course, say "non, non, non" much to the delight of the Remoaners, the BBC and treacherous West-loathing buffoons at C4 News. But poseur Macron is just Merkel's French poodle: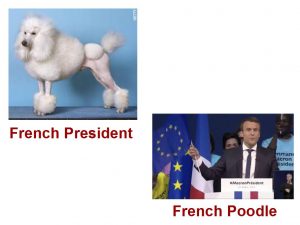 So, despite his public heroics and well-practised intransigence, Macron will probably eventually surrender (as the French have always done throughout the ages) and do whatever his German boss tells him.
Bollox to HS2?
But Brexit isn't the only area where our new invigorated PM is making his mark. He has also launched a review of the extraordinarily wasteful and unnecessary HS2 rail project.
I'll make this part of my blog today simple so, were any politicians to be reading it, even they might understand.
France is a big country – about 640,000 km2. The UK is a small country – about 242,000 km2. England is an even smaller country – 130,000 km2. France has an extensive high-speed rail network – the TGV. It makes sense to have high-speed trains in a large country. It doesn't make sense to have high-speed trains in a small country.
Now let's go a bit deeper. The French train route from Paris to Lyon to Marseilles can probably be seen as comparable to the UK train route from London to Birmingham to Manchester in terms of how it connects major cities. But the differences in distances are huge. Paris to Lyon is 292 miles, whereas London to Birmingham is only 128 miles. And Lyon to Marseilles is 488 miles, whereas Birmingham to Manchester is just 86 miles.
The much greater distances in France justify a high-speed rail network. But squandering over £100bn on cutting just a few minutes off the train time from London to Birmingham and then even fewer minutes off the train journey from Birmingham to Manchester is utterly ludicrous.
There are many better things the Government could do with £100bn+ than the ridiculously unnecessary HS2 project.
She felt at home in Bradfordistan
And now for something completely different. Here's a Crapistani movie star telling reporters how visiting Bradford was just like being in a "mini-Pakistan".
Hmmmm – hooray for diversity and multi-culturalism!!!!!!