(Friday blog)
Is average IQ important to a country's peace and prosperity?
I'll start today's blog with a map you'll have seen here many times before – it features much-disputed and controversial research findings of average IQs per region of the world and each region's economic success or failure: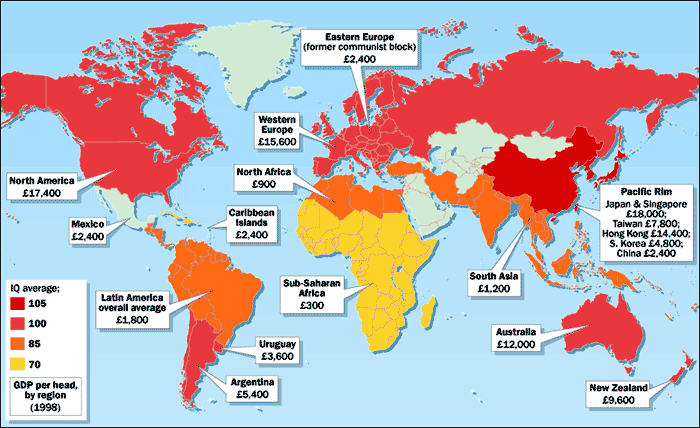 You may or may not accept these results. That's up to you. I, of course, am too politically-correct to have any opinions about anything.
But let's go crazy for a moment. Let's accept two premises
there are differences between the average IQ levels of people in different regions of the world
 these IQ differences do have an influence on the probabilities of individual countries in those regions achieving peace and prosperity
I know this sounds ridiculous. I know it's quite absurd. I know that all races are totally equal in every single way even though there aren't too many Chinese 100-metre sprint Olympic gold medalists, there aren't too many African-American ping-pong champions and marathons tend to be won by runners from Ethiopia, Eritrea. Kenya and Somalia.
But if we were stupid enough to accept the results of the above controversial and politically-incorrect chart, it suggests that when a country's average IQ level is below say 90, then there's a much greater likelihood of that country becoming an excrement- and violence-filled, corrupt hell-hole than if the average IQ is around 100.
Does Ireland have lower IQ levels?
Let's forget all the bad jokes about Irish intelligence and look at the facts.
Studies done prior to 1979 (when such studies weren't considered crimes against political correctness) suggested that while the average IQ in much of England was around 100, it was 96.7 in Northern Ireland and 96 in Southern Ireland.
Wait, before you all start screaming "racist!!!", let's take a moment to look at the historical context.
Historical emigration
Since 1700, over nine million Irish have emigrated. The total population of Ireland (North and South) is about 6.6 million (4.75 million in the Republic of Ireland with another 1.85 million in Northern Ireland). So the departure of more than nine million people – almost 3 million every hundred years – represents quite a significant portion of the population. And who would have emigrated? Those at the lower level of the IQ Bell Curve with the lowest levels of education, the lowest IQs and the lowest chances in life?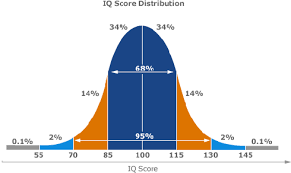 Or those with higher education, higher IQs and higher motivation to start a new life elsewhere? If the answer is the latter, then this massive emigration may be a factor in IQ levels being possibly lower in both Northern and Southern Ireland than in England up to 1979.
Modern emigration – Southern vs Northern Ireland
Southern Ireland – In the last 30 years, Southern Ireland was known as the "Celtic Tiger" as huge cuts to corporate tax rates encouraged many international companies to set up operations there. This had a knock-on effect on education leading to the development of a young, well-qualified workforce. Migration fell and many Southern Irish actually moved back to Ireland to take advantage of increasing job opportunities. An impressive 64% of those Irish immigrating back to the Republic of Ireland during the Irish economic boom had post-secondary-school education – much higher than in any part of the UK
Northern Ireland – During the Troubles (1968 to 1998) and even after, there was a massive brain drain from Northern Ireland as many of those with education or specialist skills fled abroad to avoid the violence, bigotry, stupidity and hatred.
Now, before anyone starts accusing me of being a bigot, let me quote from a newspaper report from Northern Ireland comparing the results of recent emigration from the North vs the South.
The result of differential emigration is that, in the North, only a third of those in their early 30s are graduates, compared to 43 per cent in the Republic and a similar figure for mainland Britain. In addition, Northern Ireland also has a significantly higher proportion of the population in their 30s who did not complete second level.
Western economies today depend on high-skilled, especially graduate labour, for economic success. Many low-skill jobs have migrated to developing countries. The Republic's economic success story is largely built on a well-educated workforce attracting high-skilled, high-paid jobs, in technology, financial services and similar sectors. 
The lower level of education in Northern Ireland, compounded by permanent outward migration of Northern-born graduates, has had a serious negative impact on that economy.
It has also contributed to a society, which is now marked by political stagnation, with no end in sight to re-establishing the Assembly.
So, what is the average IQ level in Northern Ireland today? We don't know as it is politically-incorrect to measure such things. Probably it's well below the 96.7 reported in 1979. Maybe it has even dropped below 95? If it is say 92 or 93, then Northern Ireland would be nearer in IQ level to the failed, violent, criminally-corrupt countries of South America than to the advanced and prosperous countries of Western Europe.
That brings us to the question – does the fact that the average educational level and the average IQ level in Northern Ireland are probably much lower than in either Southern Ireland or the rest of the UK have any influence on the province's apparent inability to create peace and prosperity?
You decide. As usual, I have no opinions about anything!!!!!!
Honest, PC Plod. I am opinion-free otherwise I might be accused of 'thought crime'.
(Readers – Irish or not – are welcome to leave politically-correct comments by clicking on the headline)