(weekend blog)
Peterborough by-election fraud?
(I wrote this blog early Saturday morning. I see today that the Mail on Sunday has now picked it up)
I've been trying to assemble some facts to better understand the Peterborough by-election 'results'.
Fact 1 – Turnout was 48.4%, down from 67.5% in the 2017 general election
Fact 2 – Turnout amongst postal voters was 69.4%. That is an incredibly high turnout
Fact 3 – The amount who apply for a postal vote is usually around 15%-18%… so 69% of the 15%-18%.  So probably around 12% of total votes are postal
Fact 4 – In total 33,920 votes were cast. So the postal vote was probably around 4,070 (I haven't been able to find the exact figure)
Fact 5 – Labour politician Lisa Forbes narrowly won the Peterborough by-election as she beat the Brexit Party's candidate Mike Greene by 683 votes
Fact 6 – It was reported that in 2018, Tariq Mahmood, now 51, was convicted alongside fellow Labour members Maqbool Hussein and former Peterborough Mayor Mohammed Choudhary for forgery over a devious scheme to fabricate votes for the Peterborough City Council election of June 2004. "They were able to get hold of postal votes and proxy votes which belonged to voters in the Central Ward," Prosecuting QC Anthony Leonard said. "They arranged for postal votes and ballot papers to be sent not to the voter but to addresses which each defendant was connected".
The four-month case that saw Mahmood (a Labour Party Secretary) sentenced to a 15-month porridge stint cost the taxpayer a whopping £850,000. Labour Councillor Ed Murphy was also reported to have boasted on the night of the count: "We'd signed up over 500 Eastern Europeans for postal votes within weeks of the election being called". I believe that Mahmood is still working for Labour and had a visible presence on the by-election night.
Fact 7 – In 2004 a massive postal vote fraud was the biggest scandal in Birmingham political history and led to the city being compared by Judge Richard Mawrey to a 'banana republic'. In that case, he found there had been a Birmingham-wide campaign by parts of the local Labour Party to use bogus postal votes to counter the adverse impact of the Iraq war on the party's support
Fact 8 – Here's the religious split of Peterborough's population: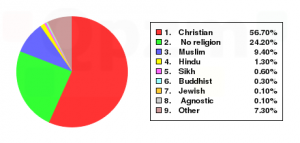 Were our friends from Religion Perfection able to muster a block vote for Labour, that would explain the results in Fact 9.
Fact 9 – The Brexit Party – 26% in the final opinion poll, 28.9% in the actual count. That's within a credible margin of error for opinion polls. Labour – 20% in the final opinion poll, 30.9% in the actual count. There's no way that that's anywhere near a credible margin of error.
Maybe the fraud is staring us in the face?
A true British heroine
In case you haven't seen this, here's the short video taken by a wonderful woman who stabbed a hole in the Trump blimp to prevent it being used in the anti-Trump demonstration. The woman is partially disabled (she needs help to walk) and is disgusted by the insulting anti-American stance of the idiotic protestors. You'll see that the politicised police, who never take any action against progressive, lefty, Extinction Rebellion and other such infantile demonstrators, are pretty quick to arrest this brave, partially-disabled woman for being patriotic and respectful of the office of the President of our closest ally.