(Wednesday blog)
I can't stand it. It seems like every TV channel and every newspaper and every political leader actually believe Global Warming is caused by human activity. This is truly incredible. Not since people believed that the Earth was flat and you could fall off the edge have so many been fooled into believing such misconceived garbage.
In desperation, I've produced my own David Craig video debunking the Man-Made Global Warming hoax in just three simple pictures.
So, you have a choice. Do you believe a (IMHO) ghastly, precocious, attention-seeking, pig-ignorant schoolgirl (who looks like a member of the Adams family) and a (IMHO) revered national treasure who has suddenly turned into a senile, doddery old fool?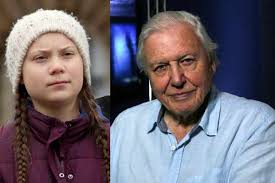 Or do you believe my simple but straightforward explanation of the reasons for our climate changing?
I leave that decision up to you.
(Apologies that this video is a bit slapdash. But I still haven't quite worked out how to use the free voice-recording software I downloaded from the Internet)