(Friday blog)
Hurricane Theresa causes massive destruction
Today's blog will be brief as I'm rendered almost speechless by yet another blunder from our great leader – Theresa May.
She's incredible. Everything she touches turns to sh*te. Maybe we should call her "Hurricane Theresa" as she destroys everything in her path? Or maybe we should just stick with "Theresa the Traitor" or "Treason May"?
Or just "useless, lying, two-faced, incompetent, deranged harridan"?
There's no room here to detail all her dishonesty and stupidity. So here are just some key highlights:
She was against Brexit from the start
She saw her job as damage limitation rather than an opportunity for Britain to break free from the corrupt, sclerotic, undemocratic EU Fourth German Reich
She lied when she said at least 106 times "no deal is better than a bad deal"
She allowed Remoaner civil servants to bypass two UK Brexit secretaries in order to cook up an arrangement preventing Britain from ever leaving the EU
She got stitched up by Barnier and Selmayr and the useless Drunk
She got tricked into the Irish backstop which shackled the UK to the EU in perpetuity unless we handed over Gibraltar to Spain and all our fishing grounds to EU countries among any other concessions any of the 27 EU countries wanted to demand as a price for not vetoing the UK leaving the EU at some point in the future
She came back with a supposed 'deal' that made the UK a powerless vassal state to Germany – Hitler would have been impressed
She was humiliated 3 times when she tried to get her totally unacceptable supposed 'deal' through parliament
etc
etc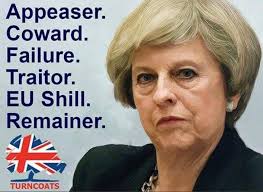 But now this incompetent, lying, devious, worthless waste of skin we call our Prime Minister has made the blunder to end all blunders – by crawling to the Marxist madman Jeremy Corbyn she has achieved the almost unachievable:
she has elevated Corbyn into the status of a serious politician
she has handed Corbyn the keys to Number 10
she has almost single-handedly destroyed the Conservative Party which now faces annihilation at the next general election
and, of course, Diane Abbott will be our next Home Secretary!!!!!!!!
Despair would be too mild a word to describe my feelings today.
Here's a real politician
So here's a woman who is a serious politician – it's the co-leader of the AfD (Alternativ fur Deutschland) telling the German Parliament that they're a bunch of arshlocher for allowing Brussels to mishandle the negotiations with Britain. Why oh why couldn't we have had someone like her as our leader?