(weekend blog)
Let's leave the EU?
Being a realist, I know that our rulers are never going to allow us to leave the EU. With the useless Theresa May playing the role of Neville Chamberlain and the self-aggrandising Dominic Grieve playing the role of 1930s Hitler admirer and appeaser Lord Halifax, we're going to get on our collective knees and surrender control of our country to a resurgent German empire – the EU – German Fourth Reich: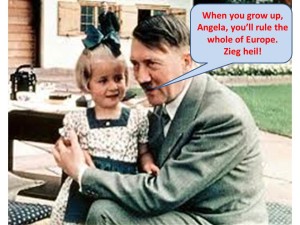 Merkel's role model, Adolf Hitler, must be kicking himself as he sees that he could have conquered the whole of Europe without firing a single shot given what cowards the French, Dutch, Belgians, Spanish, Italians, Swedes, Danes etc etc are.
I wonder if Merkel will be the next President of the European Commission when the useless Drunk leaves? That would really make it clear who actually runs Europe.
Nevertheless, here's a link to a petition demanding Britain leaves the EU without a deal:
https://petition.parliament.uk/petitions/229963
Please sign it although it won't make any difference to our rulers' determination to surrender our country to Adolf Merkel and her sidekick Martyn Selmayr (grandson of a high-ranking Nazi officer largely responsible for the slaughter of about 20 million Russians).
We're not winning
As everybody blubs and holds hands and lights candles and sings kumbaya or whatever over the New Zealand mosque attacks, let me just keep you up to date with the latest score.
So far in 2019 there have been over 400 registered terror attacks killing 2,278 innocents. Of these more than 400 attacks, at least 399 have been carried out by our friends from the religion of peace killing 2,228 innocents and just one has been carried out by an Izlumophobe killing 50 innocents.
Sorry if the BBC and C4 News spent days covering the one Izlumophobe attack and totally 'forgot' to tell you about the other 2,228 attacks carried out peacefully by our peaceful, peace-loving religion of peace chums.
Meanwhile, we hear that a couple of thugs did some damage to two or three mosques in Birmingham. But nobody mentions the more than 50 churches that were vandalised in France just during February. In some French churches, statues and crosses were smashed: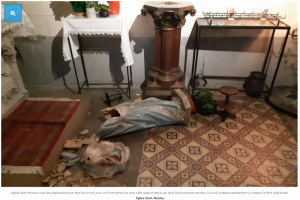 In others, crosses in excrement were also smeared on the walls:
I just can't guess who would have carried out these more than 50 attacks on churches. But I do know how many people will be arrested and prosecuted for these 50+ acts of sacrilege and religious hatred – about 0 people or probably fewer.
To cheer us up
I just love a bit of 'schadenfreude'. So here to cheer us all up in these miserable times are a bunch of smug, self-satisfied, progressive, brainless libtards before the 2016 US presidential elections laughingly and contemptuously dismissing the idea that Trump could ever become president: