(Thursday blog)
I couldn't believe the news this morning. The lying, deceitful, UK-hating, EU-quisling witch has kept her job.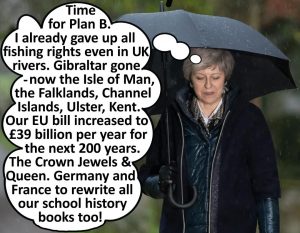 So she will stagger on from failure to failure to failure as she totally capitulates to the German-run EU.
Sorry folks, but it looks like the Remoaners have won. But this will mean the total annihilation of the useless Tories at the next election.
Jeremy should already start measuring up for new curtains at No 10 Downing Street.
As for us dirty, unwashed, ignorant plebs, it's time to prostrate ourselves before our new overlords:
Germany has won and Britain has lost.
Hitler will be cracking open the champagne!