(Tuesday blog)
Twisting Theresa the Traitor
Watching the (IMHO) duplicitous, lying, self-serving, treacherous Theresa May desperately twisting and turning as she tries to hide the truth about her supposed 'deal' must surely mark a low point in British politics.
As I've already explained, Theresa's stitch-up could trap us in the EU forever and prevent Britain making any trade deals with non-EU countries. Or, if we ever want to leave the EU, every single EU country can demand massive concessions from us by threatening to use its veto. Spain can demand we hand back Gibraltar, other countries can demand full access to UK fishing waters, the EU could demand the UK raises its VAT and corporate tax rates so we can't compete with EU countries and so on and so on. And, if we sign treacherous Theresa's sell-out, we're totally powerless in the face of any demands EU countries make.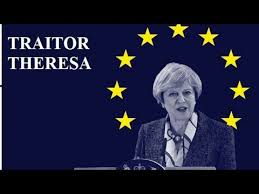 May's excuse for a government is frantically trying to suppress its own legal advice, that we taxpayers have paid for, so that MPs, the press and voters can't find out what a disaster May's 'deal' is.
The dishonesty of our rulers is astonishing. Have they no shame?