(Monday blog)
Yemen bollox
I guess we've all seen them – the TV commercials where 'famous', holier-than-thou, virtue-signalling actors tell us that we need to give and give and give and give to help starving Third-Worlders in Africa. This year, it's Yemen that we must help. And, as our well-heeled luvvie superiors demand our money to help Yemen, we're shown picture after picture of poor starving Yemeni children: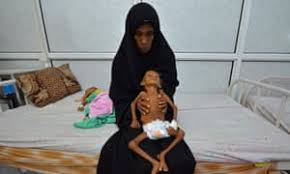 It's horrific and it's difficult to look at. But I worry that we're only being told one side of the story.
Yemen is a total Third-World sh*thole. It's the poorest of the Arab/Moozerlum countries – and there's some pretty tough competition for that prize. But let's look for a moment at the population of supposedly poverty-stricken Yemen:
I'm no expert in demographics. But if excrement-covered, backward, stone-age, starving Yemen couldn't feed its population of about 5 million in 1970 and then couldn't feed its population of about 10 million by 1985 and then couldn't feed its population of about 20 million by 2005 and then couldn't feed its population of about 25 million by 2010, how the f**k is it going to feed its current population of just under 30 million now?????????????
Bleating luvvies tell us that the problem in Yemen is due to people starving because of the ongoing war. This is bollox of the highest magnitude. The problem in Yemen is NOT war, but that one of the poorest countries in the world is producing too many children. What Yemen needs is not more food, but some birth control. But nobody in the West dares say this as this would be considered waaacccciiiisssst and colonialist and Izlumophobic etc etc etc.
Ethiopia, Somalia, Sudan – same story, same lies
For at least the last 60 years we've been ordered by our superiors to give generously – to Ethiopia, to Somalia, to the Sudan – the list goes on and on. But what has been the result? Ever more starving Africans.
When Saint Bob did his 1984/5 BandAid thing, there were about 40 million Ethiopians.
Now there are almost 100 million and in 23 years there will be about 200 million!!!!!!! Moreover, there's a rain shortfall in the Horn of Africa (Ethiopia, Eritrea, Sudan) every 7 to 10 years. I think I read somewhere it's connected to the El Nino weather phenomenon.
So, if primitive, backwards, basket-case Ethiopia couldn't feed its 40 million people when Saint Bob single-handedly saved Africa in 1984/5, how is it going to feed about 100 million now? And about 200 million by around 2040?
Without birth control, Africa will drag itself and us into chaos
I'm fed up with the lies spewed out by self-serving charities such as Oxfam and Save the Children and Christian Aid and UNICEF and all the others of their ilk with their well-paid bosses and child-raping employees. We've been giving and giving and giving to Africa for over 60 years and where are the water wells, and hospitals and universities and electricity plants and roads and all the other things we've paid for time and time again?
They don't exist because most of our money has disappeared into the offshore bank accounts of Africa's billionaire, kleptocrat rulers or the pockets of well-paid charity workers. Meanwhile Africa's starving, poverty-stricken masses reproduce at a speed that most rabbits would envy.
Africa's problem is NOT a lack of food. Africa's problem is a lack of birth control:
In the last 40 years, with their 'one child policy' the Chinese have taken over 600 million people out of poverty by ensuring economic growth is faster than population growth. In the last 40 years, Africa has pushed 600 million more people into poverty because population growth in Africa has always been faster than economic growth.
But with the population of Africa at about 1.3 billion now and due to double within 22 years to about 2.6 billion and hit 3.6 billion by around 2050, we are facing a total catastrophe. Not only will millions regularly starve in Africa, but tens of millions will flee Africa's self-inflicted misery by migrating to Europe:
And they will transform our once prosperous, civilised continent into the same kind of violent, conflict-ridden, poverty-stricken hell-holes they have come from.
So this Christmas, give generously to Africa and you'll just increase the number of people born into poverty and hopelessness.
In fact, we should only give aid to African countries which implement tough birth control policies and tell the rest to go whistle because their misery is entirely self-inflicted.
You've already been fooled and lied to by the charities so many times in the past. Don't get fooled again!