(weekend blog)
Rapes R Us?
There have been some super rapes recently:
German police in Freiburg, Baden-Württemberg, have arrested a 28-year-old Eritrean migrant male after DNA evidence linked him to several sexual assaults and cases of animal welfare abuse committed over the course of two years. Three women plus numerous sheep and goats were found to have traces of this gentleman's DNA. Also in Freiburg, 10 to 20 Syrian men raped an 18-year-old German girl for hours. Meanwhile in Sweden a 10-year-old girl was raped in a courtyard in Malmö by a 30-year-old migrant from Libya. In Italy, some Nigerians and Senegalese raped and murdered a young Italian girl. And in Britain, after decades of ignoring "Asian" gang-raping and gang-sodomising and gang-torturing of white British girls, our police are finally starting to track down, or at least pretending to track down, the possibly thousands of "Asian" men who have been having so much fun since they arrived in our once great country.
Who is paying for the rapefugees?
Of course, there isn't room here to list even a tiny proportion of the rapes and murders that have been carried out by our diverse, multi-culturally enriching Third-World friends. So let's move on to another issue – who is paying for them to come here? After all, it costs at least €2,000 in people-smuggling fees and there are expenses for travel, food and shelter etc. Moreover, many of the good folk pouring into Europe also seem to have fashionable clothes, the most modern phones and hardly look like they're starving. Yet many come from countries where the average annual wage is only around €1,000 to €1,500. Maybe they've just been very thrifty and have managed to save up for their travel and clothes and phones etc? Or maybe it's us that are paying?
Let me introduce you to a new debit card. Here it is: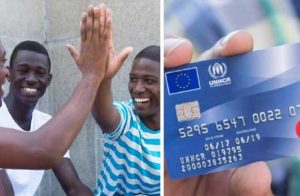 This new debit card is not available for you or me even though we are paying for it.
According to a source in the Croatian police, UNHCR (United Nations High Commissioner for Refugees) and the EU (who live lives of luxury off the billions provided by us suckers), in cooperation with MasterCard and Soros, generously hand out these prepaid debit cards to the migrants. The cards are reportedly equipped with both EU and UNHCR logos. No identity documents are required to obtain or use the cards – instead of the name of the cardholder, "UNHCR" and a number is printed on the card.
During their travels, migrants withdraw cash from ATMs to stock up on supplies. This is how the migrants are well-equipped with newly purchased, high-quality boots, hiking clothes, smartphones and even weapons.
MasterCard reportedly announced in 2016 that they issued prepaid debit cards to "give refugees mobility, flexibility and dignity". Moreover, in a press release last year, MasterCard also reportedly announced a cooperation with George Soros with the aim to "catalyse and accelerate economic and social development for vulnerable groups in the world, especially refugees and migrants".
I haven't been able to find the original press releases from Mastercard. But I have found a diagram from an Italian source showing many of the pro-rapefugee organisations supported by George Soros's Open Society Foundation: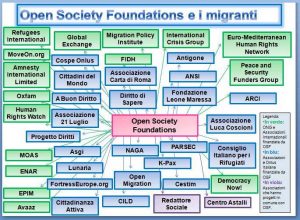 And I have found quotes by Soros in which he called on the EU to create a new border control, whereby it "has to accept at least a million asylum-seekers annually for the foreseeable future". And I have also found many claims on the Open Society website where the organisation boasts about the hundreds of millions it spends on "assisting" rapefugees into the EU.
As for the thousands of girls that have been and will be raped and often murdered by the 'new Europeans' – well, who cares about them? Who cares about their lives being ruined when migration is bringing us so much enrichment? Their lives are apparently a price worth paying.