(Weekend blog)
At the end of 2016, just after his election as UN Secretary General, António Guterres said:
"We must convince Europeans that migration is inevitable and that multi-ethnic and multi-religious societies create wealth".
Could this be the biggest lie you will ever hear?
Let's dissect this lie and some other lies about migration
1. We need migration due to our ageing population
Our rulers claim that because Western populations are ageing, we need to import more young people to work and pay the taxes to support the increasing numbers of the elderly. And it's true that the number of working age people to every pensioner in Britain, or the "old age support ratio", is forecast to fall to 2.9 by 2050, from 3.3 in the mid-1970s to 2006. But, and it's a big but, many more people aged over 65 are in good health and are continuing to work – often not because they need the money, but to keep active and maintain social contact. Moreover, many of the people we are encouraging to flood over our non-existent borders are more than unemployable. They won't be working and paying taxes, they'll be living off benefits and criminality and will be a massive drain on our taxes.
And, of course, technological advances mean there will be a diminishing need for workers as many job functions are increasingly automated. In fact, the people we will need will be those of higher capabilities who can operate and problem-solve the automation and not the people who did the many repetitive, low-skill jobs that are being automated.
2. Migration is inevitable
Another claim is that migration is inevitable. Why is it inevitable? Why can't we close our borders? Instead of providing a luxury free ferry service from Libya's beaches to Europe, why can't we turn back the boats and build the fences and walls? All we need is some political will. All we need is people like Viktor Orban in power.
3. Migration helps poorer countries
This is rubbish. The population of the Africa increases by one million a week. Add in a few other sh*tholes and you're probably close to two million people every week. So, if we take in one million a year, that's just a few day's Third-World baby production. If we take in five million a year – that's just two to three weeks' Third-World baby production. If we take in more than five million a year, we will destroy what's left of Western civilisation.
4. Multi-ethnic and multi-religious societies create wealth
This is total bollox. It's true that when people from Western Europe moved to other countries – America, Australia, New Zealand, Africa – they brought science, learning, education, civil organisation and progress. It's also true that the countries where westerners stayed (Australia, USA, Canada etc etc) became advanced and prosperous whereas most of the countries westerners left descended into civil war, poverty, backwardness and misery (Zimbabwe, Sudan, Ethiopia etc etc etc). Study after study have shown that the more 'diverse' a society is, the less cohesive it is and the greater is the likelihood for criminality and even civil war.
5. Migrants will benefit the West
In Friday's blog, I mentioned the fact that the US military (see also video below) will not take anyone with an IQ below 83 as there is nothing useful such a person can do either in the military or a modern society. Looking at a world map of IQs and wealth by country we can see a clear correlation between national IQ levels and national wealth: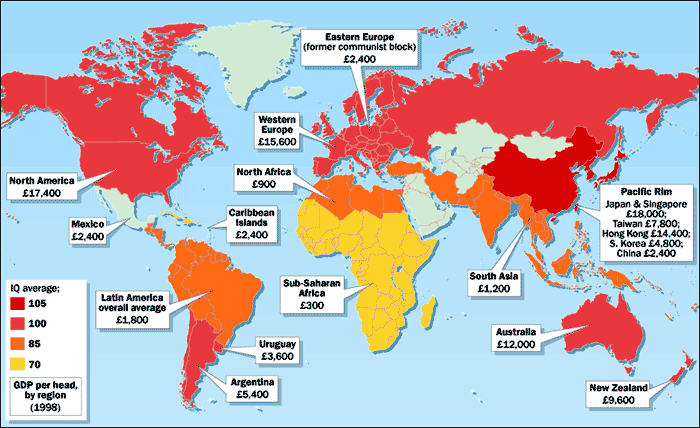 We are importing people who have created most of the Third-World sh*tholes because of their backwardness, low IQ, tendency to violence and inability to get an education and develop. Probably more than half these people's IQ is too low for them to function in an advanced country. We are importing prejudice, tribalism, social breakdown and possibly civil war.
We do not need migration. We do not need these people. They will overwhelm us and destroy us.
But you'll never see the libtard, progressive, hectoring, holier-than-thou mainstream media mentioning any of the above inconvenient truths.
And here's psychologist Jordan Peterson explaining the problem of what we can do to help people with IQs below 83: