Only the politically-correct can adopt
Last year a couple were blocked from adopting their two foster children after expressing concerns about them being raised by a gay couple.
The husband and wife had looked after the young children since the early part of the year. When they were told that a gay couple were being put forward to adopt them, the pair admitted that they "expressed a degree of shock and asked if this was a 'joke'". We are Christians and we expressed the view that a child needs a mother and a father. We expressed our views in modest, temperate terms based on our Christian convictions
The practising Christians, who have biological children, were said by their social worker to find the situation "very challenging", and two days later formally applied to adopt the youngsters themselves.
However the council turned them down, saying that their views about gay parenting were "concerning" and "could be detrimental to the long-term needs of the children."
This year there was a case of a 18-month-old baby girl, Elsie, adopted by a homosexual couple being bludgeoned to death by one of the adopters. If I remember correctly, Elsie's biological grandparents offered to adopt her. But the adoption authorities decided it would be in the girl's best interests (more politically correct) to be adopted by a gay couple.
But who cares about Elsie beaten to death by one of the homosexuals who adopted her? After all, allowing homosexuals to adopt is a supreme act of political correctness and therefore beyond reproach even though one of the adopters was a murderer. The baby was just collateral damage in the admirable cause of political correctness. No doubt the person who made the decision to hand Elsie over to her murderer, rather than her grandparents, got promoted for displaying political correctness above and beyond the call of duty.
Will the politically-incorrect be allowed to keep their children?
Now we have a new story about political correctness gone mad. In one local authority, parents who withdrew their children from a visit to a mosque were labelled 'Izlumophobic'. But perhaps these parents don't want this to happen?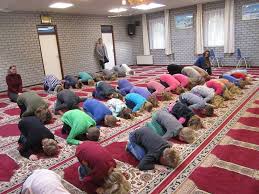 Anyway, were Moozerlum parents to withdraw their children from a visit to a church, a Hindu temple or to, God forbid, a synagogue, that would be perfectly acceptable. In fact, there would be outrage from the usual idiots if Moozerlum children were forced to go on a trip to (and even pray in) a synagogue. Can you imagine the protests? Can you imagine the froth-flecked fury? Can you imagine all the libtards screaming that this was an 'attack on Izlum'?
But when non-Moozerlum parents don't want their children forced to bow down and kiss the floor in obedience to the Great One, the hypocritical local authority brands them as committing a 'thought crime' and questions their suitability to be parents.
Here's someone explaining this outrageous situation better than I could: