As Britain becomes a much more inclusive, much more diverse, much more Third-World country, we need to change many of our long-held traditions and customs to make the 'new Britons' more welcome in our once great country.
There are many disgusting customs we have which upset the hordes pouring over our uncontrolled borders – free speech, tolerance, democracy, low levels of corruption, equality between men and women, permitting homosexuality, making rape a crime rather than a harmless hobby for men, not cutting off clitorises, working rather than living off benefits, eating pork, humanely stunning animals before slaughtering them, allowing females outside the home without making them look like Darth Vader on a bad hair day etc etc
But one thing that really pisses off many of those who have come to enrich our country is the British habit of keeping dogs as pets: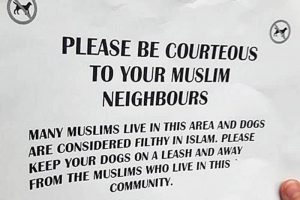 I can't understand how dog owners can be so selfish. Don't they understand that they are offending many of the people invading and taking over our country?
Here's a leaflet pushed through the doors of many people in an area being taken over by multi-cultural enrichers explaining the problem:
So, dog owners, it's time to show more respect for your new neighbours. It's time for you to adapt to the new Britain:
It's time for you to tell Woofie and Buster and Yappie and Chomper and Tara that their days may be numbered. It's time for you to make your guests more welcome by getting rid of your canine friends.
And, Woofie, you're not going to escape the coming purge on dogs by pretending to be a multi-cultural enricher:
That won't work!
You're not fooling anyone with that disguise!