There are several similarities between Sweden and Canada. Both are cold northern countries with loads of forests and lakes and rather few people. Moreover, until recently both were extremely boring places where nothing newsworthy ever happened. At least that was the case for Sweden before it flung open its borders to every piece of primitive, inbred, violent, illiterate, unemployable, Third-World garbage who fancied a life living off Sweden's generous benefits system.
Welcome to Swedistan
I have written before about a UN report – the Human Development Index (HDI) – which tries to estimate how countries will develop or decline between 2010 and 2030.
Virtually all countries are projected to improve their citizens' lives.
But there is one glaring exception. According to UN projections, unlike its Nordic neighbours and unlike all other developed countries, Sweden will be a much poorer country by 2030. This seems to be something the Swedish Government has 'forgotten' to tell its voters: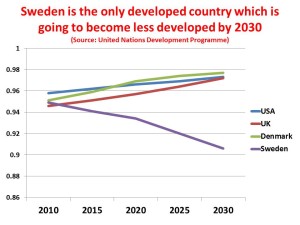 In 2010 Sweden was at 15th place in the HDI rankings. But Sweden has dropped to 25th last year and by 2030 will be 45th. I wonder why the BBC and Channel 4 have decided not to run this story.
Moreover most of today's less developed countries such as Cuba, Mexico, the Baltic countries and Bulgaria will pass Sweden in prosperity according to the UN report: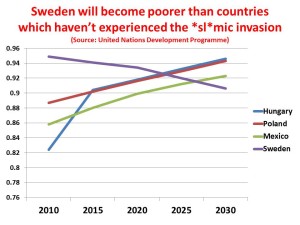 The main reason for Sweden's expected decline will be a massive increase in the number of households living off welfare. And that, of course, is mostly due to uncontrolled Third-World immigration.
What's worse is that this report was produced before the current migration invasion which is seeing over 110,000 Third-Worlders pouring into Sweden each year. So Sweden's decline will actually be much faster than the UN report predicts.
As for once being 'boring' – well now Sweden is often in the news with its regular riots in its 50+ no-go areas, its ever-rising rape levels and its very own terrorist truck attack in the centre of Stockholm. Sweden's migrants have certainly livened the place up a bit.
Welcome to Canadistan
Now for Canada. There are four developments in Canada recently which suggest that Canada has decided to follow Sweden's example of turning a once successful, civilised country into a Third-World cess-pit.
1. Canada's Tony Blair
The election of Canada's Tony Blair – Justin Trudeau. With his film-star looks and holier-than-thou self-righteousness, Mr Trudeau is so 'progressive' that it could make your eyes water:
2. Increased immigration
Since the wonderful achievement of Donald Trump winning the the US presidency against the candidate of the whole progressive establishment – Crooked Hillary – there has apparently been a flood of Third-Worlders fleeing from the USA for a better life (more benefits) in Canada.
More Third-World freeloaders arrived in the first three months of 2017 than arrived in the whole of several previous years.
3. Anti-Islamophobia motion
Under the ever so liberal, ever so progressive Trudeau, Canada has recently passed a motion targeting supposed "Islamophobia" to "quell the increasing public climate of hate and fear". The non-binding motion, known as M-103 was passed by 201 votes to 91. Liberal MP Irqa Khalid, who tabled the motion, was cheered loudly by her party as the vote passed.
Conservative MP David Anderson put forward an amendment to the motion to try and change the wording to include other religions. He argued the motion should be to "condemn all forms of systemic racism, religious intolerance and discrimination of Muslims, Jews, Christians, Sikhs, Hindus and other religious communities". But the amendment was rejected by Mr Trudeau's Liberals.
4. Protecting citizenship for terrorists
The Canadian upper house – the Senate – passed Bill C-6 on Wednesday (May 3, 2017) after debating for almost a year on changes affecting citizenship, children's rights and language requirements.
Bill C-6 which proposes changes to the Citizenship Act, removes the right to revoke citizenship from dual nationals who are convicted terrorists; ends the obligation for new citizens 14 -18 and 55 -65 to know either English or French; reduces the number of days someone must spend in Canada before they are eligible for citizenship; minors can apply for citizenship independent of their parents.
Bye, bye Canada?
I wonder if I'm really the only person who can see where Trudeau's Canada is heading?
Down the same path as Sweden?