Now we know. The British police are totally mystified and have told us that we may never discover the motives for the Muslim terrorist attack in London. Obviously it had nothing to do with Izlum which is a religion of peace. Obviously it had nothing to do with killing unbelievers and infidels. Obviously it had nothing to do with anything, just like all previous and all future Muslim attacks will leave the authorities totally mystified.
After all, Izlum and Sharia law have made a huge contribution to Britain. Moreover, Izlum – murder of gays, murder of Jews, oppression and/or murder of non-Muslims, murder of apostates, suicide attacks, female genital mutilation, inferior status of women, women forced to wear Darth Vader costumes, gang rape of underage kuffar girls, polygamy (four wives per man), denial of free speech – is (as Theresa May has pointed out) "entirely compatible with British values and our national way of life":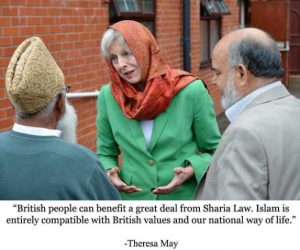 So, relax. There's really nothing to worry about as our friends from the Religion of Peace, Hatred, Love and Tolerance take over our country.
Anyway, as my Internet isn't working properly today, here's the inimitable Pat Condell explaining that "Izlum has nothing to do with Izlum":