Yesterday was a tremendous day for our friends from the Religion of Peace. Around 97 Shiite pilgrims were killed and another 40 or so injured in bombings at a petrol station used by the pilgrims as a popular stopping-off point: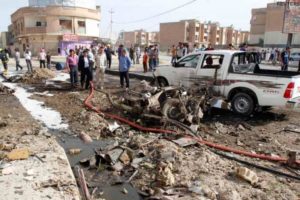 In fact, November has been quite a good month for our chums from the world's one and only true religion.
November started with 69 civilians being killed and another 672 injured when they returned to homes booby-trapped by their co-religionists.
On 6 November, 11 Shiite pilgrims were murdered and around 100 injured. The next day, about 300 beheaded bodies were found in ditches.
On 8 November, about 40 innocents were slaughtered by the State That Has Nothing To Do With *sl*m. Then a day later another 30 innocents were packed off to Paradise.
On 12 November, 52 Religion of Peace worshippers were killed and another 105 injured at a shrine in Pakistan for worshipping the wrong version of the Religion of Peace.
On 14 November, 63 innocents were killed by State That Has Nothing To Do With *sl*m and another 100 or so injured. Then the next day another 32 left this earth – executed for supposed 'apostasy'.
In the last ten days, a couple of hundred more innocents have been helped on their way to eternal life by the good people from the Religion of Peace.
In 2015 there were 2,862 Religion of Peace attacks (238 a month) killing 27,594 innocents (2,299 a month) and injuring another 26,141 innocents (2,178 a month).
Over the last 30 days, there have only been 205 Religion of Peace attacks in which a paltry 2,169 people were killed and a more impressive 2,879 injured.
So, the bearded crazies are a little below their 2015 monthly average for killings, but well above it for the number of injured.
But there are still 6 days left till the end of the November and the Religion of Peace practitioners only need to kill another couple of hundred innocents to beat their 2015 monthly average.
Come on chaps! You can do it!
Just one last big effort!
(Oh dear. Did the BBC and the Guardian and Channel 4 News forget to mention this ongoing slaughter? I wonder why)