One of the most common insults the BBC and other mainstream media scum use to show their contempt for people like Nigel Farage, Donald Trump, Marine Le Pen and Geert Wilders is "populist".
The ruling classes and their media lapdogs like to infer that "populist" is the same as "racist".
But what is the opposite of "populist"?
As far as I can see, the opposite of "populist" is "elitist" – the belief that the self-serving, self-righteous, parasitical elites know what 's best for us and that we should do what they tell us and and vote the way they instruct us: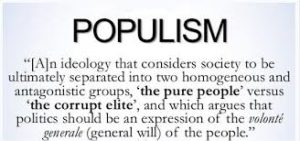 The elites in politics, business, the banks and the media believe that we're too stupid to know what's best for our country: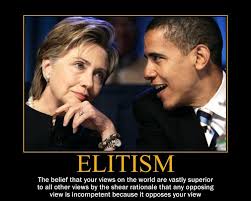 We've been obeying the elites for years and all this has given us is the greatest financial crisis for over a century; most Western countries plunged into un-repayable debt in order to save the bankers from their own greed and stupidity; a lost generation as youth unemployment in the Club Med countries seems stuck at around 50%; an unstoppable and disastrous Religion of Peace invasion of our continent; the rich getting richer and the rest of us getting poorer and our rulers with their six-figure pensions (paid for from our taxes) repeatedly telling us that our pitiful State Pension of around £6,000 to £7,000 a year is apparently "unaffordable".
And, of course, the elites believe that concepts like countries, national borders, patriotism, democracy are just remnants of a discredited past and that we would all be better off if we agreed to be run by an utterly corrupt bureaucracy under the control of Germany – a country against which our forefathers fought two wars to preserve our freedom.
Our rulers may want to genufluct and grovel to their German overlords: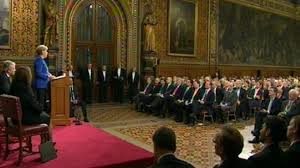 But for us filthy, unwashed, ignorant serfs it's time to reject the idea that we should allow ourselves to be ruled by Germany and its venal, undemocratic glove puppets in Brussels.
For us, it's time to be "proud to be populist":
It's time to be proud to be either "a dumbed-down, middle-class, aging, Daily-Mail- 0r Express-reading, Thatcherite Little-Englander" or an "openly racist arsehole".