(weekend blog) Judging by the British mainstream media, since the Brexit vote we've all become racists and have been abusing and attacking foreigners. There was someone who handed out some leaflets saying something like "Poles go home!" and I think a woman shouted something at a M*sl*m woman in a hijab or burkha or Darth Vader party costume or whatever. But I struggled to find any real examples of foreigners or M*sl*ms actually being attacked and injured in Britain.
However, searching the Internet, I finally did find a real *sl*mophobic attack. Though I had to go to the US to find it? What happened, you may ask. Was a mosque burnt down by screaming white racists? No. Did some crazy KKK rednecks start shooting at M*sl*ms? No. What happened was someone threw some eggs at a M*sl*m woman who was out shopping:
The horror! The Horror!
But wait a minute. Was she killed? No. Was she injured? No. Though a few eggs were wasted.
Now let's look at *sl*mophilia – the deliberate attempt by the progressive, liberal elites to cover up and excuse any atrocity carried out by adherents of the Religion of Peace.
As you can imagine, even before the Nice slaughter, there was no shortage of atrocities committed by our M*sl*m friends – the rape pandemic in Germany, Britain and Sweden; the tens of thousands massacred by ISIL (rapes, crucifixions, beheadings, burning to death etc); the attacks in Paris, Madrid, London, Brussels, Mumbai and now Nice and so on. Though at least these are so horrific that they are reported by the mainstream media.
But where *sl*mophilia really rears its ugly head is in the deliberate policy of the elites to deceive us about the scale of violence against non-M*sl*ms around the world. We seldom hear about the murders of Buddhists by M*sl*ms in Southern Thailand and Myanmar. Or the rape and murder of Hindus in India and Kashmir. Or the abduction of Christian girls in Pakistan. The girls are then forced to convert to *sl*m and married off to Pakistani M*sl*m men as their slaves. If the family protests or reports the abductions to the police, a couple of family members are usually threatened, beaten or killed. And the Arab/Israeli conflict is too frequently described as a couple of million nasty, bloodthirsty Israelis brutally oppressing 700 million wonderful, peace-loving, highly-educated, hardworking Arabs.
Or we could look at Egypt. Hundreds of Coptic Christians are being killed there every year and Western leaders and the progressive liberal media and elites look the other way while telling us plebs that "*sl*m is a religion of peace".
Here are a few pictures showing what happened to one and a half million Armenian Christians at the hands of Turkish M*sl*ms in 1916 and what happens 100 years later to those who aren't sufficiently M*sl*m in 2016:
And here are some more pictures of 'modern' *sl*m: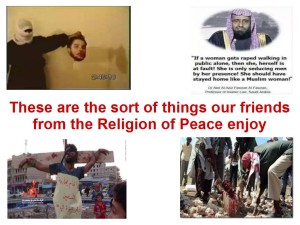 So, let's compare the pictures. There's *sl*mophobia in the US – a few eggs being thrown. Or today's rapes, beheadings, crucifixions and suchlike. Then you can judge which is worse.
Is it *sl*mophobia? Or *sl*mophilia?