Here's a ranting, mouth-frothing, bearded maniac (sorry, I meant 'respected *sl*mic cleric') reminding us what the world's more than a billion M*sl*ms think about the Jews:
http://www.memritv.org/clip/en/5502.htm
This 2-minute video is a curious example of 'transference' – a sometimes serious psychological or even pathological condition whereby the sufferer transfers their own feelings and emotions onto someone else.
For example, the towel-headed lunatic claims:
The history of the Jews is "soiled in blood". Um, with around 30 people per day being killed and another 45 per day being injured in religiously-inspired attacks by M*sl*ms, it might not be the Jews whose history is "soiled in blood"?
The Jews know nothing but "lies, fabrications, treachery and conspiracies". And there was stupid me thinking that the Jews had produced more great scientists, philosophers, artists and Nobel prize-winners than any other religious group. Meanwhile, the Religion of Peace seems to only spread ignorance, violence, intolerance and hatred.
The Jews "believe that anyone does not adhere to their religion is a filthy pig". Crikey! I must be totally insane. I thought this was a trait of our M*sl*m friends: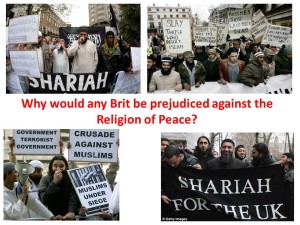 "It is written in their distorted Torah that Jews have the right to rape non-Jewish women". Ah right, so the plague of sex attacks by M*sl*m migrants sweeping Europe and the mass sexual slavery being carried out by ISIL can really be blamed on the Jews' holy book – the Torah – and not on the wonderful K*r*n!
"The Jews hate us, kill us and rob us". Ah, now I understand! So these pictures below must be of Jewish terrorists and not the work of backward, mentally-deficient, bloodthirsty crazies from the Religion of Peace: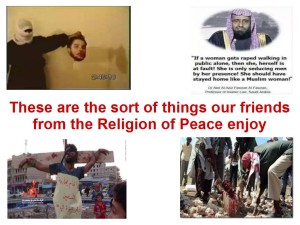 So, there you have it folks.
The mayhem sweeping across the Middle East, Africa and Europe is all the fault of the Jews – the "plague of history" – and absolutely nothing to do with a perverted, backwards, violent, supremacist cult masquerading as a religion.