I have already written about how the UN Human Development Index has predicted Sweden will become a Third World country by 2030 because Sweden has taken in more M*sl*m migrants per head of population than any other country: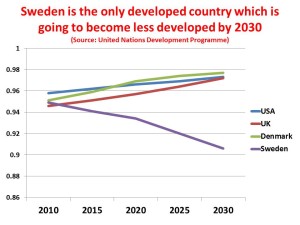 Of course, that's just a forecast and the *slamophiliacs who are running Sweden (into the ground?) can dismiss such a forecast as mere speculation.
So, I've found some reliable hard numbers (apart from the rapidly increasing numbers of rapes that the Swedish authorities and compliant Swedish media try to conceal) which prove, beyond any doubt, that mass M*sl*m immigration is destroying Sweden.
There's a survey done every three years, the PISA survey (Programme for International Student Assessment), which compares the educational performance of over 500,000 students in 65 countries. Here's how Sweden scored in 2003, 2006, 2009 and 2012: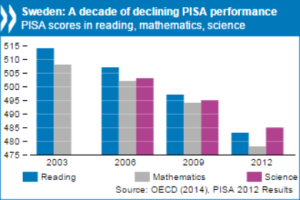 Oh, and here is the what's happened in Swedish schools since 2000:
Ooops! Not looking too good, is it
In 2000, Sweden was one of the best performers coming 9th in reading, 10th in science and 15th in maths. In the most recent test for which I have been able to find the results – 2012 – Sweden had fallen from 9th in reading to 36th, from 10th in science to 38th and from 15th in maths to 38th.
Commenting on the collapse in educational standards in Sweden, the OECD wrote "the country's performance in the OECD's PISA survey has declined over the past decade from around average to significantly below average. No other country taking part in PISA has seen a steeper fall".
The Guardian has written quite a few articles about the unfolding horror story that is Sweden's educational system and has consistently blamed Sweden's decline on its policy of 'free schools' (not under local education authority control) which has been copied by the Tories and which the Guardian naturally opposes. No Guardian article ever mentions Sweden's M*sl*m immigration.
The M*sl*m migrants children seem to cause two types of problem. Firstly, they don't want to learn and well over half of all immigrant children in Sweden fail to reach the required educational level. Secondly, they are so disruptive and violent that they prevent other children learning.
Here's link to a short video showing M*sl*m immigrant children studying hard at a Swedish school so they can become well educated and make a positive contribution to Swedish society: