(weekend blog) We keep hearing from our rulers that ISIL is a perversion of the Religion of Peace, that most M*sl*ms don't support ISIL and that M*sl*ms do not constitute a threat to Western civilisation.
So lets look at some real numbers to test the hypothesis that M*sl*ms aren't a threat to our civilisation.
The best numbers I could come up with are from surveys conducted by an Arab organisation which tried to establish what percentage of the Arab population supported ISIL.
Here are the numbers from 10 Arab countries and then I've added another survey from Pakistan: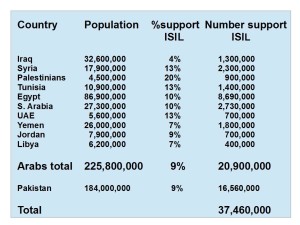 It seems that around 9% of those surveyed supported ISIL. That's over 37 million people. Ooops!
And these are just the ones supporting ISIL. Once you add in those who may not support ISIL but would like to see a caliphate established in Europe, you're probably looking at a few hundred million of these wonderful people.
The *sl*mophiliacs will no doubt point out that 91% don't support ISIL. So, here is the brilliant Brigitte Gabriel explaining the lessons of history (4 minute YouTube video) that "the peaceful majority are irrelevant". In the 1930s most Germans were peaceful, yet the Nazis got the Germans to slaughter 60 million people. Most Japanese were peaceful, yet they slaughtered 20 million or so. Ditto the Chinese and the Russians.
So, should we be worried that 37 million people support ISIL and several hundred million would like to overthrow European civilisation and establish a caliphate on our continent? Yup, I think we should be worried.
Meanwhile our useless rulers totally ignore this massive existential threat to Western civilisation as they're too busy fighting against the non-existent threat of global warming and trying to start a completely unnecessary conflict with Russia.
You couldn't make it up.
Anyway, here's Brigitte Gabriel: