In the 'good old days' of communism, the KGB in the former Soviet Union and Stasi in East Germany had informers in every apartment building, factory and village telling the authorities about anyone daring to say anything negative about the wonderful governments of those two unfortunate countries. Say the wrong thing in  the company of one of these good people, then you'd get a visit from the police, a good beating and maybe even ten to fifteen years in a labour camp. But while the KGB and Stasi could control what you said, they couldn't find out what you thought.
But now we have the Internet, And given that our on-line behaviour and the choice of websites we visit probably reflect how each of us thinks, our rulers may now be able to use the Internet to access our thoughts and identify anyone who dares to think anything that is politically-incorrect or in their view 'subversive'.
Let me try to explain:
Anyone who has a website – a business, shop, newspaper, campaigning group or even an insignificant little largely-ignored blogging site like my snouts-in-the-trough – can use a service called "Google Analytics".
The basic service is free and allows website owners like me to see things like:
How many people visit their website each day and each hour of each day
How many are first-time visitors and how many are repeat visitors
How often repeat visitors have visited
How long each visitor spends on the website
The demographics of the visitors – age and gender distribution
The personal interests of site visitors based on information held by Google about which other sites they have visited
Which geographical regions website visitors live in
Which browsers and networks visitors use to access the website
Which mobile devices visitors use to access the site
There is also a paid-for service called "Google Analytics Premium" which costs about $150,000 and gives you even more information about the people visiting your website and loads of fancy tools for analysing your website visitors.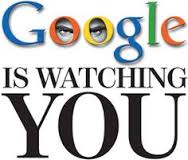 Neither Google Analytics nor Google Analytics Premium give the exact names of those visiting websites and each individual's on-line behaviour. But Google must have that information in order to aggregate it.
I'm sure our security services have much more sophisticated tools for tracking our Internet use than Google Analytics and Google Analytics Premium.
Given that so much information about us is now floating around the Internet somewhere, I think we can be fairly certain that our government, or any government, could choose a website it didn't like and immediately get the names of all the people who have been visiting that site.
Or else a government could target any individual and find out which websites that individual has been visiting, how frequently they have visited each website and how long they have spent visiting each website.
Under communism, the KGB and the Stasi knew who you were and knew almost everything you said. With the Internet, governments know who you are and can now find out what you think.
Just thought you'd like to know.