David 'Son of Blair' Cameron lies so constantly and so blatantly that it's difficult to predict if he'll ever tell the truth about anything.
No doubt, he'll come back from Brussels on Friday claiming a huge success in his pantomine negotiations with his EU bosses. But there's a bigger and possibly more dangerous Cameron whopper coming our way. Here's what it will look like:
Of course, we all know that lousy liar David Cameron was lying through his teeth when he claimed there were 70,000 moderate rebels in Syria. And we know Cameron used this ludicrously exaggerated lie to get approval for his new Syria war in the same way his hero Blair invented Saddam Hussein's 45-minute WMDs to get approval for his illegal war against Iraq. So, Dave has started dropping the occasional bomb in the Syrian desert, although there apparently haven't been any British raids for over a week as they can't find anything worth attacking.
Anyway, Dave needs a 'moderate' M*sl*m army to justify his (increasingly pointless) Syrian bombing campaign as his 70,000-strong 'moderate' rebels are pure fantasy. But Dave might be in luck. There are rumours that Saudi Arabia and some other Gulf states are trying to cobble together some sort of force to ostensibly use some of the expensive weaponry we've sold them against ISIL. If our Arab 'friends and allies' do manage to assemble something that even vaguely looks and smells like a military force, Dave will be beating his chest and proudly declaring his anti-ISIL strategy is a huge success.
Please don't believe a word of it. Just as Turkey fooled us by pretending to attack ISIL while actually bombing Kurdish troops and helping fighters join ISIL, buying ISIL's oil and patching up wounded ISIL leaders in Turkish hospitals. So, the Sunni Arab states will claim to be sending their army into Syria to defeat ISIL. But what they will really be up to is ensuring the overthrow of Assad, who is backed by Shiite Iran, so the Sunnis can install a new Syrian government made up of ultra-religious, West-loathing Sunni bearded maniacs: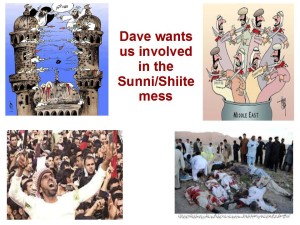 Sunni Saudi Arabia and Shiite Iran are battling each other for dominance in the Middle East. They already have a proxy war going on in the Yemen where the Sunni Saudi army is trying to prevent Iranian-backed Shiite rebels from over-running the country. Syria will be the next battleground for the Sunni/Shiite war. And our Dave is stupid enough and desperate enough to swallow the Saudi lies. So we have the prospect of British planes and troops being used by the Sunni Arabs to fight against Shiites who will be supported by Iran and Russia.
Oh dear Dave, that's another fine mess you're getting us into!