Here's a nice picture. It features the comfortable, air-conditioned Haj tents in Saudi Arabia:
They look a lot better than the Calais 'Jungle':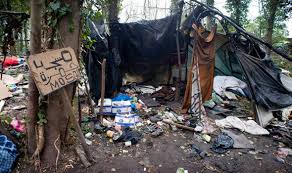 The air-conditioned Saudi Haj tents could take up to 3 million 'refugees' from Syria and Libya and Yemen and other *sl*mic hell-holes. And the Saudis have lots of (our) money to look after their M*sl*m brethren. That would help solve the 'refugee crisis'.
But the Saudis are smarter than us and have refused to take a single M*sl*m refugee. The Saudis would much rather the M*sl*m hordes accepted Mad Angela Merkel's invitation by pouring over Europe's non-existent borders hastening the *sl*mification of Europe, the destruction of Western democracy and the transformation of once civilised Europe into yet another violent, intolerant, backward, excremental, misogynist *sl*mic cesspit.
Oh, and here's Pat Condell's latest video. Peace be with you until the whole of Europe erupts into civil war.