When London was attacked by our M*sl*m friends on 7/7, the French just shrugged disinterestedly and breathed a sigh of relief that it didn't happen to them. Moreover, when Britain went to war with Argentina to retake the Falklands, the Frogs were eagerly flogging the Argies the Exocet missiles which killed so many British troops and almost led to us losing the war.
Yet when France gets attacked by our *sl*mic brothers, suddenly Cameron is beating his chest Rambo-style, comparing himself to Churchill, rushing over to Paris to meet our supposed 'ally' and planning to send British troops into yet another pointless Middle East quagmire.
I guess the main reason Cameron is licking Hollande's arse is that he hopes the French will show some gratitude and pretend to have given some ground in Cameron's sham 'negotiations' over Britain's membership of the EU. The rest of us know the French will just p*ss all over us, as usual.
So the whole bombing thing is a waste of time, money and British lives.
Moreover, there are other reasons why the British bombing of ISIL in Syria will just be a vacuous, pointless gesture by PR-man Cameron:
1. Everybody's already doing it
With the USA (very half-heartedly), Russia (more seriously) and France (chaotically as usual) all bombing away with little visible effect, it's difficult to imagine what contribution a few ageing British jets will make. I suppose we can spend millions pulverising a few Toyota pick-up trucks driven by bearded maniacs. But we're hardly going to make a difference. What's needed is a massive force of ground troops backed up by attack helicopters and Warthogs. But apart from a few Kurds (inconveniently being bombed by our other 'ally' Turkey) there aren't any effective boots on the ground
2. Reinforce M*sl*m 'victimhood'
All British intervention will achieve (apart from wasting tons of borrowed money) will be to reinforce the message spread by *sl*mic clerics that the West is embarking on a new crusade with the intention of destroying *sl*m. So, expect lots more young, disaffected, petty-criminal, inbred M*sl*ms to use British military action as an excuse to become enraged and to kill innocent Brits in retaliation
3. It's a Sunni/Shiite civil war
Supposed 'experts' blame the power vacuum left by the Iraq and Syrian wars for the rise of ISIL. But what they don't mention is that ISIL is primarily a Sunni uprising against what they see as Shiite oppression of Sunnis in the two countries. The Shiites are fundamentalists and crazy. But the Sunnis are apparently even more fundamentalist and even more crazy.
There are about 1.6 billion M*sl*ms in the world. Of these around 87% (1.39 billion) are Sunnis and 13% (208 million) are Shiites. By bombing Sunni ISIL we're putting ourselves on the side of the 208 million Shiites against the 1.39 billion Sunnis. I wonder if one of Cameron's advisers has taken the time to suggest to him that this may not be such a great idea?
4. The problem isn't ISIL, it's *sl*m
What none of our rulers dare admit is that, while being at war with itself, *sl*m is also engaged in taking over the world, especially rich and apathetic Europe: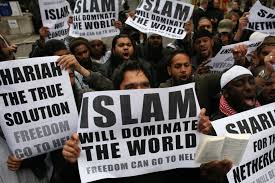 Over a quarter of 'European' M*sl*ms believe that anyone mocking their Prophet should be killed. Over half of 'European' M*sl*ms want to introduce Sharia Law. The vast majority of 'European' M*sl*ms believe that M*sl*m majorities will eventually take over in Europe. David 'Winston' Cameron may succeed in destroying some Toyota pick-up trucks. He may even help reduce the territory controlled by ISIL. But that still leaves us with the not so small problem of being swamped by people who loathe us, our freedoms, our culture and our way of life.
Oh dear!