There are probably only two issues we need to consider in the referendum on EU membership – economic and political:
1. Economic
The 'In' campaign – Britain Stronger in Europe – will try to scare people into supporting them by endless horror stories about how jobs will be lost and our economy will crash if we leave the EU. These will be pretty much the same stories the same people used when they tried to get Britain to abandon the pound and replace it with their beloved euro.
Here's the one chart people need to see to understand that the 'In' campaign's scare stories are a pack of lies. The red line shows the EU's share of world GDP: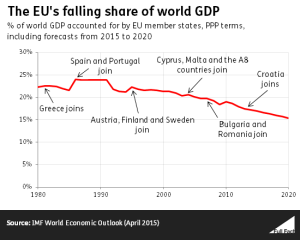 The EU's share of world GDP keeps declining. Rather frighteningly, this has happened in spite of ever more countries joining the EU. The evidence is clear. The world is growing, the EU is stagnating. The EU is ageing and being smothered by over-regulation and unaffordable social welfare costs.
The EU was once good for Britain. When the UK was the 'sick man' of Europe. joining the EU gave us access to new markets and encouraged many foreign firms (Honda, Nissan etc) to invest in Britain using our country as a bridgehead into Europe. But now the EU is the 'sick man' of the world.
The EU is the past, the rest of the world is the future.
As the chart shows, Britain can only prosper if it leaves the EU and rejoins the rest of the world.
2. Political
The 'In' campaign will avoid any mention of the political implications of leaving the EU – regaining control of our own borders, our courts having supremacy over EU laws, decisions being made in Britain and not Brussels and so on.
The 'In' campaign doesn't dare mention these as these are things most people in Britain want.
The question in the referendum should be "Do you want Britain to be an independent country or just a region of a single, corrupt, undemocratic, wasteful, increasingly *sl*mic European Superstate?"
If asked that question – the real, honest question – most people in Britain would vote to leave the EU.
Conclusion
So, please ignore the 'In' campaign's one-sided lies about our economy being damaged. And please see through the 'In' campaign's complete silence over the beneficial political consequences of breaking free from German-dominated Brussels.
It's time to leave.