I have a feeling I did this story a few months ago. But just in case I didn't, here it is again.
How we're marching blindly backwards from civilisation towards an *sl*mic future
M*sl*m population below 2%
When the M*sl*m population remains at or under 2%, their presence tends to fly low under the radar. M*sl*m practices like first-cousin marriages (leading to lower intelligence and increasing birth defects), FGM, oppression of women, refusal to integrate and loathing of non-M*sl*ms are not noticed and not seen as potentially problems for society
M*sl*m population in the 2% – 5% range
M*sl*ms begin to seek converts, targeting those they see as disaffected, such as criminals. When the population reaches 5% they exert influence disproportionate to their numbers, becoming more aggressive and pushing for Sharia Law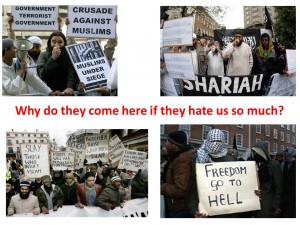 High birth rates and continued immigration lead to pressure on public services – health, schooling, housing, policing etc. Gang rapes of white girls are common. But any criticism of criminality and intolerance in the M*sl*m community is censored by political correctness and genuine fear of violence against anyone making negative comments about their country's M*sl*m population (example – most of Western Europe)
M*sl*m population over 10%
M*sl*ms become increasingly lawless and violent. Once the population reaches 20%, there is an increase in rioting, murder, jihad militias, and destruction of non-M*sl*m places of worship. (example – India)
M*sl*m population over 40%,
There are widespread massacres, chronic terror attacks, and ongoing militia warfare. Once beyond 50%, infidels and apostates are persecuted, genocide occurs, and Sharia Law is implemented. After 80%, intimidation is a daily part of life along with violent jihad and some state-run genocide as the nation purges all infidels (example – Syria and Iraq where Christians are being exterminated while our rulers turn a blind eye). Once the nation has rid itself of all non-M*sl*ms, the presumption is that 'Dar-es-Salaam' has been attained – the *sl*mic House of Peace.
Finland copies Swedish and German censorship – don't mention they're "M*sl*ms"!
And here's heartwarming story from Finland which is adopting the Swedish and German approach to crime by committed by mainly M*sl*m immigrants:
Finnish cops have been ordered by the country's national police board not to publicly identify migrants as criminal suspects over concerns that doing so would encourage a 'racist' backlash against the wave of asylum seekers entering Scandinavia.
The new guidance, reported on by Finnish news outlet Iltalehti.fl, is designed to prevent "negative" attitudes being attached to asylum seekers, as well as maintaining "law and order and a sense of security" by not radicalizing local populations who are opposed to migrants entering the country.
By keeping the migrant status of the suspect confidential, the police board hopes that crimes committed by asylum seekers will not "stir up anger."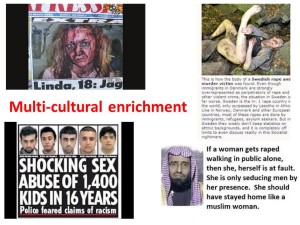 The order means that press releases or pleas for public help in identifying suspects will not include information identifying the suspect as a migrant, making it easier for would-be criminals and rapists to evade detection.
This is particularly egregious given the alarming number of rapes that have occurred in and around migrant camps, as well as Sweden's crippling rape epidemic, for which M*sl*m migrants are largely responsible.
Authorities in Germany are also covering up crimes committed by migrants.
Last month it emerged that police in Germany are keeping quiet about a spate of rapes targeting children committed by Muslim migrants in and around refugee camps so as not to "legitimize" critics of mass migration.
Germany's top broadcaster ZDF is also refusing to run crime stories about M*sl*m rape suspects because, in the words of Editor in chief Ina-Maria Reize-Wildemann, "We don't want to inflame the situation and spread the bad mood. [The migrants] don't deserve it."