A heartwarming story today from the once Swedish, but now largely M*sl*m, city of Gothenburg.
Apparently the message "Konvertera eller do" ("Convert or die") was sprayed outside a pizzeria owned by Assyrian Christians: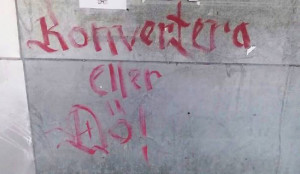 The pizzeria is one of a number of businesses in the Tynnered area of the city that have been targeted by graffiti appearing to support the radical Islamist group ISIL in recent weeks.
Around 10,000 Assyrians, a Christian ethnic group originating in the region that is now Syria, Iraq, Iran and Turkey – now live in Sweden.
Representatives of several Assyrian associations called an emergency meeting on Thursday night to discuss ongoing claims that Sweden's second largest city is becoming a recruitment hub for ISIL which has already targeted the Christian minority in Syria.
As Putin's forces crush ISIL in Syria, while Obama and Cameron bleat impotently on the sidelines, we can expect hundreds of European Jihadis to come pouring back into Europe to continue their war here.
You might have thought that 9/11 and the London bombings were bad, but in the immortal words of Bachman Turner Overdrive "B-b-b-b-baby you ain't seen nothing yet".
Meanwhile in Germany, cleaners at refugee centres are being raped by the subhuman excrement that is flooding into Europe following Angela Merkel's invitation to 20 million Syrians (and millions more pretending to be from Syria) to come to build a new *sl*mic Caliphate in Europe.
The Third World War between *sl*m and civilisation has truly started – it's just not clear whose side our rulers are on!