Up to the EU 'in/out' referendum and beyond, we're going to be subjected to a lot of heat and noise by the 'inners' and 'outers' as they both push their case. There will be plenty of lies and dodgy statistics, but it's unlikely we'll get any reliable facts. So, I'll try, in 600 words, to explain why it was right to join the EU in 1973 and why it's right to leave now.
It was right to join
By the early 1970s, Britain was famously the 'sick man of Europe'. We'd lost our empire and were in a state of severe decline. Joining the six countries in the Common Market in 1973 along with Ireland and Denmark gave us, as an English-speaking country, a unique opportunity – to become the destination of choice for US and Japanese companies wishing to operate within the Common Market. Hence many US firms and companies like Honda and Nissan set up manufacturing bases here. We were their bridgehead into Europe.
Of course, we were lied to about the real nature of the Common Market. Our rulers claimed we were joining a trading block, while they knew all along that it was a political project: "ever closer union" meant stamping out national differences to create a single European superstate to supposedly rival the US.
'Outers' can, of course, point to Norway and Switzerland to argue that Britain could have thrived outside the EU. Possibly. But what's done is done. Our task now is to look forward and decide what's in our best interests – staying in or leaving?
It's right to leave
There are many reasons for leaving. Perhaps these are the most important three?
1. Little to no influence When we joined in 1973, there were just nine countries. As one of the largest members, Britain had considerable influence (although we usually failed to use this effectively). Now with 28 countries (a number likely to grow as the EU tries to expand in Putin's back yard), Britain has negligible influence. In fact, with the removal of the national veto, we will always be outvoted, often by countries (Romania, Bulgaria) which are little more than mafia fiefdoms
2. Loss of sovereignty Any country that cannot make its own laws, has no influence over its own agriculture, fishing and labour laws and has no control of its borders is no longer an independent country. Many EU countries (Italy, Greece, Spain, Portugal) have been so incompetently and corruptly ruled for so long, that for them membership of the undemocratic, wasteful, corrupt EU is a huge improvement on what happened when they were independent countries. But Britain has a long history of being a free nation that brought democracy to the world. Hundreds of thousands have died to preserve that freedom. Today's political pygmies have no right to give that freedom away and hand over our country to German rule
3. The EU is the past, the rest of the world is the future The EU's share of world GDP is collapsing. In 1980, the 28 countries that now make up the EU accounted for 30.3% of world GDP. By 2020 this is forecast to fall to just 15.4% or less: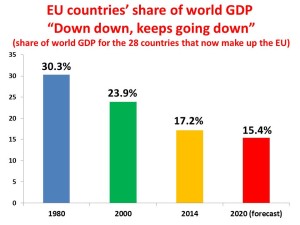 Slow growth, over-regulation, incompetent leadership are suffocating the EU while the rest of the world rushes ahead. The EU is fast becoming an economic irrelevance.
Moreover, the share of our exports going to EU countries has dropped from 52% in 2003 to 44% and will keep on falling.
Conclusion – It's time to go
We should let the EU blunder ahead with its ghastly project of creating a United States of Europe (while actually creating a EUSSR). Let them commit economic and political suicide as they use mass immigration, stifling controls on free speech and economic blackmail to force the rest of Europe under German and French control. But we should break free of this increasingly oppressive and outdated horror and build a new future out in the world.
We can survive and thrive without the EU.
But a more interesting question is – can the EU survive and thrive without us?