In England and Wales, our biggest animal charity is the £107m-a-year 2,217-employee RSPCA (Royal Society for the Prevention of Cruelty to Animals). But up in Nicola Sturgeon's one-party state – the glorious Democratic People's Republic of Scotland (twinned with North Korea) – they have their own big animal charity – the £14.4m -a-year 345-employee SSPCA (Scottish Society for the Prevention of Cruelty to Animals).
Smart readers will have hopefully spotted that the RSPCA with a turnover of £107m a year and 2,217 employees is more than slightly larger than the wee SSPCA with just £14.4m a year and a mere 345 employees.
Given this, you might have thought that the boss of the SSPCA would be paid rather less than the boss of the much larger RSPCA. How wrong you would have been. The boss of the wee SSPCA received around £216,320 in the latest financial year, while the previous boss of the much larger RSPCA got somewhere between £140,000 and £150,000. In fact, despite the SSPCA being just 13% of the size of the RSPCA, the SSPCA's boss's salary was more than 40% higher than that of the RSPCA's boss.
Moreover the wee SSPCA paid its boss more than any of the much larger animal and bird charities in Britain: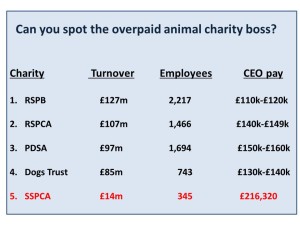 The six-figure sum dwarfes the pay of both Prime Minister David Cameron, who is on £142,000, and First Minister and Supreme Leader Nicola Sturgeon, who gets paid £135,000 a year.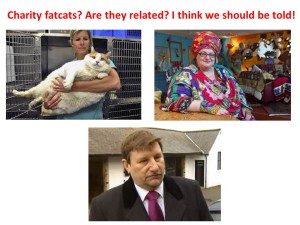 It's a fine old life being a charity boss – especially up in Bonnie Scotland!