I would like to recommend this short (2-3 minutes) YouTube video (sent to me by a reader). It features part of an interview with American General Wesley Clark where he explains that the Americans really believed that, if they threw out the oppressive regimes in Iraq, Libya, Syria and other Middle East states, they would suddenly become nice, democratic countries and be best buddies with America (apologies if you've already watched the video, but it's so damning that it's worth seeing again to fully appreciate the stupidity of our rulers):
In another interview, Clark explained the US Middle East strategy of toppling regimes that were not friendly to America: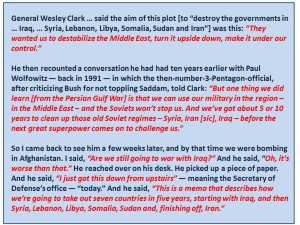 Ooops. It seems the Americans were wrong. It seems that when you kill lots of M*sl*ms to supposedly 'liberate them', they don't end up liking you. Who would have thunk it?
But worse, experience has taught some of us that M*sl*m countries, where pretty much every sect and tribe and religious group hate each other, need to be controlled by a strong leader otherwise they fall into chaos and the anarchy of internecine civil war. We should have learnt this in Iraq, Afghanistan, and Libya. I've learnt this, dear reader, and I'm sure you have too. But our stupid rulers have learnt nothing.
And that's why we now we have the utter mess in Syria. Putin understands that we need to reinstate Bashar "Basher" Assad and get the place under control again (if that's possible). But Obama and Cameron are still bleating about Syrian 'democracy'. It would be funny if it wasn't so tragic.