We all know that our great rulers Obama and Cameron (Obameron) have a clear strategy on Syria – give military help and arms to the "nice, moderate" Syrian rebels:
Unfortunately, Obameron haven't a clue who the "nice moderate" Syrian rebels are: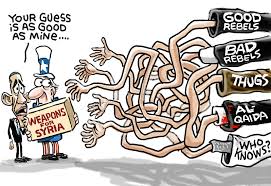 Obameron did try to create an army of "nice, moderate" rebels and launched a $500m programme to train them. But things didn't work out as planned. Defense Secretary Ashton Carter admitted this year that only 60 so-called "moderate" Syrian rebels were currently being trained by the U.S. in the $500 million program that had intended to put 3,000 rebels into action.
In an absolute classic understatement, Carter told the Senate Armed Services Committee (SASC): "The number 60, as you all recognize, is not an impressive number. The number is much smaller than we hoped for at this point."
The $500 million Syrian training program authorized by Congress was intended to train and equip up to 5,400 fighters annually, with about 3,000 projected to be ready by the end of this year.
SASC Chairman Sen. John McCain, R-Ariz., who earlier gave a scathing critique of the Obama administration's entire approach to the campaign against the Islamic State of Iraq and Syria (ISIS), said "I got to tell you that after four years, Mr. Secretary, that is not a very impressive number".
As for the few that were trained, the first wave of "New Syrian Force" fighters was ambushed by al-Qaeda and wiped out, with many of them killed, kidnapped, or MIA. No one at the Pentagon seems to know what happened to the second wave after they handed American vehicles and ammunition over to al-Qaeda's Nusra Front in exchange for safe passage.
Anyway, Mr Putin seems to have got tired of Obameron's bungling incompetence and has done what Obameron should have done years ago – launched air strikes backed up by an on-the-ground offensive.
At the recent UN meeting, Putin explained his reasons for acting: "It is now obvious that the power vacuum created in some countries of the Middle East and North Africa led to the emergence of anarchy areas. Those immediately started to be filled with extremists and terrorists.
Tens of thousands of militants are fighting under the banners of the so-called "Islamic State." Its ranks include former Iraqi servicemen who were thrown out into the street after the invasion of Iraq in 2003. Many recruits also come from Libya, a country whose statehood was destroyed as a gross violation of the U.N. Security Council Resolution 1973.
And now the ranks of radicals are being joined by the members of the so-called "moderate" Syrian opposition supported by Western countries. First, they are armed and trained, and then they defect to the Islamic State".
Obameron are, naturally outraged that Putin has exposed their uselessness and cowardice. So, rather than accepting Putin's invitation to join forces against ISIL (as Russia and the West did against Hitler), Obameron have gone off in a sulk and are trying to start a new war with Russia:
Most ludicrously, Obameron are accusing Russia of attacking "moderate" Syrian rebels. I wonder which ones those are. Meanwhile in a display of gobstopping cynicism, Turkey's leader Erdogan is criticising Russia for attacking non-ISIL Syrians while he uses the excuse of ISIL to bomb Kurdish rebels as a way of ensuring his re-election at the end of the year.
In all this mess, (as one reader wrote the other day) "I'm rootin' for Putin". Uncle Vlad the Impaler seems to be the only person with any sense and any strategy. And the more supposed "moderates" Vlad kills, the better place the world will be.