As the mostly *sl*mic hordes pour over our borders, many of our cities are becoming 20% to 30% or more M*sl*m and an epidemic of rape of Western girls and women by the new arrivals is sweeping across Europe.
The situation is so bad in Sweden and Norway that the nationality of rapists is never mentioned and pictures of convicted rapists are only shown in the media on the rare occasion when the rapists are white. Otherwise people might get the 'wrong impression'. Meanwhile in Germany, rapes by migrants are no longer reported or included in crime statistics. Again, to avoid Germans getting the 'wrong impression' of the people flooding into their country. And in Britain, the police and social services have turned a blind eye to thousands upon thousands of gang rapes never taking any action when the perpetrators were from the Religion of Peace.
To avoid being raped (usually gang-raped by ten to fifteen men at a time while many others shout and jeer and egg their friends on to do ever more extreme things to the victims), it seems that Western women must adapt their lifestyle to the new situation rather than the new arrivals accepting our norms. Here's some advice reportedly given by Dr. Unni Wikan a professor of social anthropology at the University of Oslo, Norway.: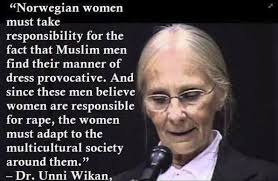 And here's some more advice reportedly from a professor of *sl*mic Law at a university in Saudi Arabia: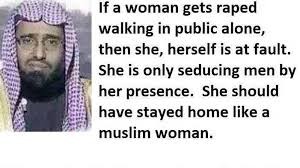 (I don't know if the picture is of the scholar himself or just one chosen at random)
So, girls and ladies, please take heed of these warnings and change the way you live to adapt to the glories of multi-culturalism, otherwise you may experience more than a few problems: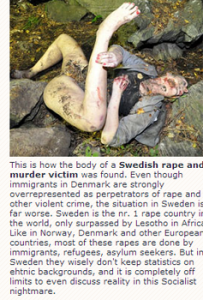 Meanwhile, the BBC continues to completely ignore the rape epidemic and pump out pro-immigration, *sl*mophiliac propaganda. Today's 'big stories' included a long feature on the 'courage' of migrants making the 'long journey' to Europe and a piece on a woman who has become the first female fire-fighter in Pakistan. I suppose the Beeb wanted to show us how culturally enlightened Pakistan is becoming. What the BBC didn't mention was that the unusual side to this latter story was not that the woman had become a fire-fighter, but that she hadn't yet been gang-raped by her male colleagues.
Oh, and in case you were wondering what I meant by 'rapeable age', I guess it's anywhere between 10 and 60.