Today I'll touch on a subject no journalist or media 'expert' would ever dare cover as they'd immediately be accused of "waaaccciiisssmmm" and be hounded out of their jobs. And how would they then pay their mortgages and send their brats to private school?
However, having just been in China, I did start to wonder how (with virtually no foreign aid) China had pulled 600 million people out of poverty in the last 40 years, while those idiots in Africa had (despite $20bn a year in foreign aid) managed to plunge about 600 million people into poverty over the same period.
So, I'm grateful to a reader for making me aware of an academic study published around 15 years ago (before the rise of political correctness) titled "Intelligence and the Wealth and Poverty of Nations".
In 2000, UN Secretary General Kofi Annan took the politically-correct position that intelligence "is one commodity equally distributed among the world's people". However, the article's authors studied IQ levels of 60 countries and their rate of development from 1945 to 1998 and found a strong correlation between national intelligence levels and economic success.
In summary, the authors propose that the average intelligence level of North-East Asians is about 105, for Western Europeans and the USA it's about 100, for M*sl*m countries around 83 and for Sub-Saharan Africa it's a frightening 70 – massively below most other parts of the world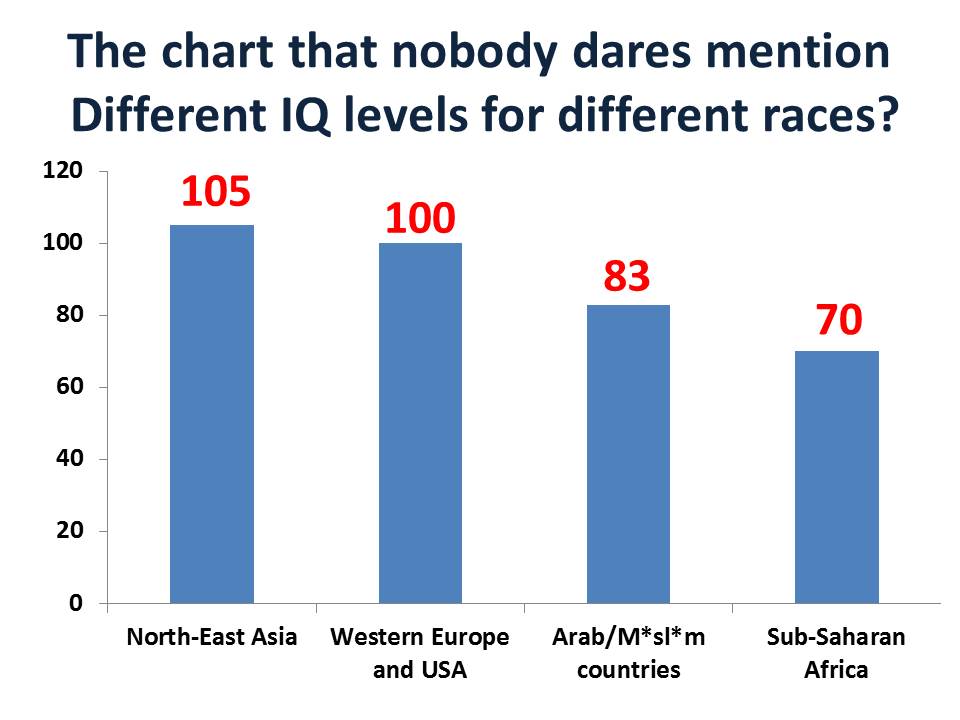 You won't find any news media keen to report this.
Of course, some people would rubbish the findings by claiming that the education systems in some countries make their people more likely to do well in IQ tests and therefore it would be wrong to suggest that intelligence is not evenly distributed.
However, there have been other explanations put forward for differences in IQ: perhaps climatic conditions meant that those peoples who moved further away from Africa towards colder climates had to use more ingenuity to survive in more hostile environments. Others have suggested cultural reasons, for example that the Protestant work ethic led to more rapid development and thus increases in IQ than the more corrupt, less entrepreneurial Catholic culture. And my personal belief is that the extraordinary complexity of some Asian languages – especially Chinese and Japanese – has meant that children's brains develop faster than those of Europeans or Africans.
There were some anomalies in the study – countries like China, Russia and those in Eastern Europe. However, as soon as these countries broke free of communist and socialist political oppression, they all developed rapidly thus reinforcing the basic theory that national intelligence and economic development are strongly linked.
I also suspect that both high and low intelligence levels are self-reinforcing. So, the more intelligent a people are the faster they develop, the more educated they become and this in turn contributes to increasing intelligence levels. On the other hand, as most African countries have so excellently demonstrated – the lower the intelligence level, the more likely the people are to indulge in tribal wars, the less likely they are to educate and develop their people and the more likely it is that intelligence levels will decline.
You may or may not choose to accept the study's findings. But it's a pity that due to political correctness, nobody nowadays dares even mention that there may be differences in intelligence between countries and races and that these may account for some of the differences in economic success and why some countries will always be hell-hole, excrement-covered, poverty-stricken failed states.