There's small charity called The Patients Association. This how The Patients Association describes its work:
Given public concern about the state of the NHS as it gradually collapses due to the pressure of 46,000 immigrants arriving in Britain every single month, I'm sure The Patients Association does tons of useful work in exposing poor NHS care and helping people get better care for themselves and their families. Moreover, The Patients Association is often quoted by the media which is an effective way to exert influence on public perceptions of the NHS and thus government policy.
But when I had a look at the latest financial accounts for The Patients Association, I started to feel a little queasy.
In the latest set of accounts, The Patients Association spent £624,397. This was made up of three main areas – Charitable Activities £290,555: Governance £58,553: Costs of Generating Voluntary Income £275,289: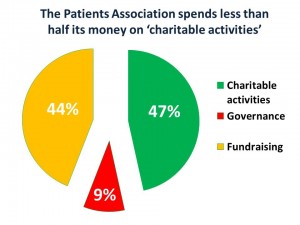 This is almost beyond ludicrous. The average charity in Britain claims (often by fiddling the figures) to spend around 85% of its income on 'Charitable Activities'. But The Patients Association spends just 47% of its income on 'Charitable Activities'. The Patients Association spends an astonishing 44% of its money just trying to raise money. That's absurd.
The Patients Association is quite small with just 13 staff. Yet it pays its chief executive between £60,000 and £70,000 (it won't give the actual figure) plus £7,502 in pension contribution. So this person is getting somewhere between £70,000 and £80,000 – more than £1 in every £10 received by the charity – for managing the activities of just 12 people and the turnover of a smallish high-street shop or fast food outlet. I don't know, but that seems rather generous to me, especially when the boss of Oxfam gets about £108,575 for managing over 5,000 staff.
I'm not casting doubt on the work done by The Patients Association. But (IMHO) it displays the utter economic stupidity of Britain having over 195,289 charities. Of these charities probably at least 20,000 to 30,000 are a similar size to The Patients Association – each needing offices and administration staff and fundraising staff and a big boss who can feel important while earning a comfortable salary. Each spending most of its money on itself and less than half its money on those it is intended to help.
We urgently need to start culling our over 195,289 charities. By merging charities doing virtually the same thing, we can get huge 'economies of scale' through reducing administration and fundraising costs and by getting rid of an awful lot of overpaid, over-pensioned (usually left-wing) self-serving, self-righteous, preachy charity bosses.
In 2011/12, the prostate cancer charities – the Prostate Cancer Research Foundation, Prostate Action and Prostate Cancer UK – merged. Prior to the merger, 67% of funds raised went to 'charitable activities'. Just a year after the merger (due to reducing administration and management costs) 80% of money raised was used for 'charitable activities'.
Even the Guardian – that staunch protector of non-jobs in the public and charity sectors – has realised that we have too many charities and one of their journalists suggested that the main obstacle to merging charities are the egos and the self-interest of many charity bosses, staff and trustees.
After all, do we really need 1,939 charities helping children? Or 581 charities trying to find a cure for cancer or helping cancer victims? Or 354 charities for birds? Or 255 charities for animals? Or 81 charities for people with alcohol problems? Or, even in a limited field like leukaemia, 68 charities? All of these charities  banging on our doors and bombarding us with phone calls and letters all asking for money for their particular 'good cause'?