We're constantly hearing about the appalling shortage of social housing and the many years people get stuck on waiting lists. But is this true?
Here are some basic facts.
1. There are about 23,309,000 homes in the UK
2. 14,709,000 are owner occupied; 4,588,000 are buy-to-lets and 4,012,000 are social housing
3. Of the 4,012,000 social housing homes, 2,343,000 are owned by housing associations and 1,669,000 are council-owned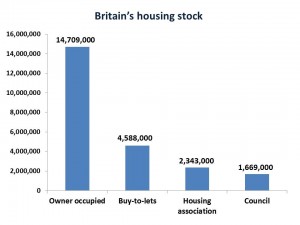 All very boring. So, here are perhaps some interesting figures:
1. Probably around 200,000 (5%) of the 4,012,000 social housing homes are either illegally sublet or illegally passed on to members of a family rather than being handed back to councils or housing associations when the original tenant leaves. When these are illegally sublet, the person supposed to be living there is probably making between £5,000 to £10,000 a year taxfree by renting their social home to someone who shouldn't be living there. If the housing associations and councils owning these 200,000 properties that are illegally rented or illegally occupied by a family member could get to grips with this problem, that would free up another 200,000 homes
2. We taxpayers are probably paying say £7,000 to £10,000 a year in rent for private accommodation for each of the people/families who could move into these social housing homes that are either illegally rented or illegally passed on to a family member. That's about £1.4bn to £2bn a year – enough to pay for the building of 35,000 to 50,000 more social housing homes every single year
3. The people running our councils and housing associations receive absolutely massive salaries. Yet, as is so often the case with public-sector or quango bureaucrats, seem to be doing almost nothing about tackling the problem of social housing that is illegally sublet or illegally passed on to family members. Here are the CEO salaries at the ten largest housing associations:
Council bosses receive similar eye-watering amounts also for doing rather little.
Here's an idea. What about reducing each of these salaries by say £70,000 a year. Given that these people would be paying 40% tax, they'd only lose £28,000 each. Then this £70,000 for each housing association or council could be used to hire two 'tenancy auditors' at £35,000 a year each. These tenancy auditors' only job would be to regularly go into every property owned by the housing association  or council and check who was really living there? That would soon identify where properties were being illegally sublet or dishonestly passed on to other family members.
Would this solve the shortage of social housing? No, because there are almost two million people on waiting lists. However, amongst these two million people there are about 50,000 families with dependent children living in unsuitable temporary accommodation. The sudden availability of another 200,000 social housing homes and the building of 35,000 to 50,000 more each year would certainly solve some of our housing shortage problems.
Then, of course, if we controlled our own borders, we wouldn't have to let in around 46,000 people every month – most of them with low skills, low earnings potential and very eager to get themselves (and their often rapidly-growing families) on already bulging social housing waiting lists.
I rather suspect that our council and housing association bosses would contemptuously reject my idea of getting them to do the jobs they're paid to do and make sure our social housing goes to those who need it rather than to those who abuse us taxpayers by playing the system confident that our incompetent, self-serving authorities will do little to stop them.