As I write, the BBC is reporting on four US marines being shot dead at a recruitment centre. Apparently, we know the name of the suspect (who was also shot dead). It's Muhammad Youssef Abdulazeez. But the BBC has also said that we don't yet know Muhammad Youssef Abdulazeez's motives for killing members of the US military.
Yup, this is a really tough one. Perhaps Muhammad Youssef Abdulazeez is Jewish? No, probably not. Or a member of a white supremacist group? Maybe. Of course, he couldn't possibly be just another violent, intolerant, hate-filled M*sl*m doing his religious duty by waging Jihad against the Great Satan, could he? That probably hasn't occurred to the *sl*mophiliacs at the BBC.
The Times reported that recent online photographs showed Muhammad Youssef Abdulazeez with a long beard, but said "there were no immediate signs that he had succumbed to radicalism".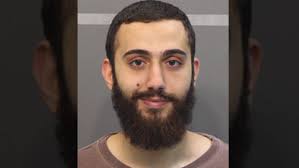 While a local resident implausibly claimed "they were an average Chattanooga family"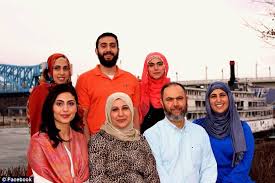 Average family? LMFAO!
Meanwhile, back in lovely, peace-loving Iran, a photograph was posted on Supreme Leader Ayatollah Ali Khamenei's official website  – as the Obama administration was finalising negotiations on a deal intended to prevent Iran from building a nuclear weapon – showing the walking stick-waving supreme leader striding across, and apparently glaring at, a painted representation of Israel's national flag.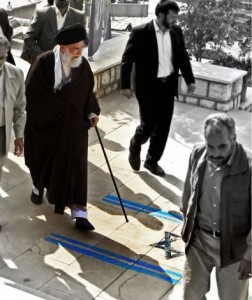 The caption on the photo reads, "The Zionist Regime is Condemned to Vanish."
"The Zionist regime is a regime with very shaky pillars," the caption continues. "The Zionist regime is doomed. The Zionist regime is an imposed regime and was created with intimidation. Nothing created with intimidation can last long and this one will not last long either."
The photo was posted last Thursday (18 Tir, 1394 on the Persian calendar), on the eve of Iran's annual "Quds [Jerusalem] Day" – also dubbed "Death to Israel Day" since chants to that effect typically characterize rallies across in the country, along with "Death to America."
But, of course, Obummer's decision to give nukes to the mad mullahs will, according to Obummer and Kerry bring "peace on earth and goodwill to all men". So there's absolutely no need for Israel to worry.
I wonder what the delightful, peace-loving Mr Khamenei aims to do with the $150 billion windfall he is due to receive because of the nuclear deal? Build lots of schools and roads and hospitals in order to improve the lives of ordinary Iranians?
Fortunately, the pacifist Mr Khamanei has given us a hint about how he intends to spend his cash mountain. The day after Quds Day, Khamenei told students in Tehran that "fighting the United States' global arrogance is one of the principles of the [Islamic] Revolution."
"Fighting against arrogance is one of the principles of the Revolution. It is a fundamental task," the 75 year-old ayatollah told the young people. "Therefore, you should prepare yourselves for continuing the battle against arrogance."
And on his official website, the maddest of the mad mullahs posted: "According to Qur'anic principles, fighting against arrogance and global imperialism is never-ending and today, America is the very epitome of arrogance."
World War 3 has started. But our leaders dare not admit this for fear of a backlash against the West's rapidly and inexorably growing M*sl*m population.