With 46,000 people coming to live in Britain every month we need to squeeze ever more people in on our tiny, crowded, increasingly Third World island. So more and more houses are being converted into flats, many older buildings are being demolished and replaced by flats and most new developments consist of flats rather than houses. In fact, many people growing up today will spend their whole adult lives living in flats – having a house will just be a distant childhood memory. This new national flat-ulence will feed the next big financial scandal – rip-off service charges.
In fact, rip-off service charges have already led to some fairly brutal court cases and one company that often seems to be involved is FirstPort (previously known as Peverel).
I think Peverel manage about 200,000 properties, 65,000 of which are retirement flats. Peverel was previously owned by retirement developer McCarthy and Stone, the bulk of whose developments it still manages. According to one newspaper report "Peverel has become notorious for its loaded fees and poor service".
Peverel has repeatedly lost rulings at Leasehold Valuation Tribunals (LVTs). It was ordered to refund £730,000 to tenants at the Weekday Cross scheme in Nottingham for excessive service charges. It had earlier been sacked as the managing agents. In another case, about £200,000 had to be repaid. And even the ritzy St George Wharf opposite Parliament, where John Major and Chelsea Clinton were buyers, tried to ditch Peverel and demanded £2.6 million in alleged overcharging at an LVT.
Here are FirstPort's supposed values (click to see more clearly)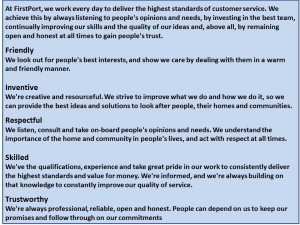 But looking at their actual behaviour, as the person wrote these 'values' they must have been guffawing with laughter when they included words like "honest" and "trust".
Managing agents like Peverel or FirstPort or whatever they are called this week seem to have at least four effective ways of extracting money from the properties they manage:
1. Excessive charges – particularly on retirement flats where charges on a tiny one-bed flat can easily be over £5,000 a year and on a cramped McCarthy and Stone two-bedder around £7,500 a year. In fact Peverel's charges have often been so high that groups of pensioners have been going to court to throw Peverel/FirstPort out and thus lower the charges they paid
2. Direct fraud – Peverel have been caught assigning maintenance contracts either to companies they own or to preferred, more expensive suppliers thus overcharging residents and then getting a kickback from the higher-priced supplier
3. The on-site manager scam – one widespread practice is to make residents pay for the warden's (or housekeeper's) flat at a rate which is astronomically in excess of the real market level. For example, one group of residents found themselves paying £21,500 a year for their warden's rent when similar flats nearby were only achieving around £12,000 a year
4. Getting a piece of every sale – particularly for retirement flats, companies like Peverel/FirstPort have been demanding a cut (usually 1% to 2%) of the price every time a property is sold. Though I have a feeling this practice may now have been banned
As Britain becomes every more flat-ulent, companies like FirstPort are going to become ever richer as they successfully squeeze money out of tenants and owners who don't have the time and legal expertise to challenge the management companies lucratively taking them to the cleaners.