I don't know how the recession has affected you. It could be negatively. You might have lost your job or else know people who have. You might have seen prices rise much faster than your earnings. You might have found you get little to no interest on your savings. You, or people you know, may have felt themselves forced by low interest rates on savings to move money out of safe savings accounts into risky stock-market investments or unit trusts. You might have bought an annuity at pathetically low interest rates. You, your children or grandchildren may be getting milked by usurious university fees.
Or you might not even be aware of the effects of the recession as they'll have affected you indirectly through fewer public services – police, doctors, hospitals, social services all being squeezed – due to lack of money as billions of your taxes were handed over to over-paid, over-bonused, incompetent, greedy bankers.
If you want to share your experiences, just click on the title and leave a comment.
Alternatively, you might have had a wonderful recession – your mortgage payments may have dropped sharply; your home may have shot up in value due to the housing crisis caused by 46,000 immigrants coming to Britain every single month for the last 15 years; you might even have built up your own little buy-to-let empire to profit from the housing crisis; your shares may have risen if you bought any time during 2008 to 2015; or you might have got a better-paid job in the post-2012 recovery.
If you're very rich indeed, you'd have had an excellent recession.
In 1990, you needed just £50 million to make it into the top two hundred in the Sunday Times Rich List. By 2008, you had to have £430 million to join this august group. By 2012, in spite of the recession, the entry level into the top two hundred had crept a little higher to £450 million. And by 2015, you'd need closer to £550 million to be in the top two hundred.
Even the comfortably rich seem to have nonchalantly shrugged off the economic chaos engulfing the rest of us. In the last ten years, take-home packages of FTSE100 executives trebled from an average of £1.5 million to around £4.8 million. Yet in the same period, the value of most of the companies they managed declined.
And if you're a politician, you'd have earned so much from thieving your expenses and doing second, third and fourth jobs on the side, while pretending to represent your constituents, that you'd be pretty stupid if you weren't a multimillionaire.
In fact the rich, the super-rich, the mega rich and the hyper rich have never had it so good. The share of British national income taken by the top one per cent of earners was a little under twenty per cent just after the First World War. This fell to just above six per cent by the mid-1970s as the economy grew, more people became more prosperous and successive governments sought to reduce inequality by taxing the rich more and distributing more of national income to the deserving and undeserving less well-off. But over the last thirty years, the share of income taken by the top one per cent shot rapidly upwards. By the 2007 economic collapse it had reached 1918 levels. Since the crash, it has gone even higher: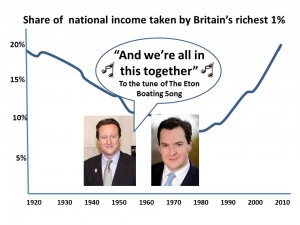 If you want to find out if you're amongst Britain's super-rich, rich, comfortably off or struggling poor, the Institute for Fiscal Studies has an on-line tool you can use. All you need to input are your annual household income, your council tax and the number of people in your household. You don't need to input your name or any personal details. Here's the link if you want to have a look  http://www.ifs.org.uk/wheredoyoufitin/