The RSPB is one of Britain's oldest and most respected charities. It was formed in 1889. At the time, hundreds of thousands of birds were being slaughtered each year due to a fashion for women to put brightly-coloured feathers in their hats. The RSPB (originally called the Plumage League) campaigned to dissuade women from this practice.
The RSPB now has over 1,300 employees, 18 000 volunteers and more than 1 million members (including 195,000 youth members), making it the largest wildlife conservation charity in Europe. The RSPB has many local groups and maintains 200 nature reserves.
Last year the RSPB raised around £122m from us and spent about £115m (retaining £7m for future use).
Of the £115m it spent, just £29.6m (only 26p of every £1 spent) went to front-line conservation. A much larger £34.7m was used for what the RSPB calls "Research, Policy, Advisory", but what a cynic might call "keeping lots of bureaucrats busy". A further £14.2m went on "Education and Communication" – more work for bureaucrats?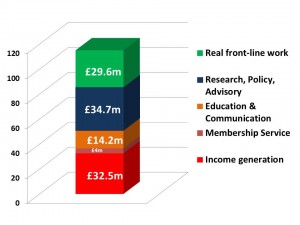 Around £4m was spent on administering the RSPB's membership which raised £32m. Yet more bureaucrats. Strangely, the RSPB decided to include this £4m administration cost as "charitable expenditure" rather than a cost of running the charity. This was approved by both the RSPB's accountants and the supposed charities' regulator – the Charity Commission. By doing this, the RSPB made it look like it was spending more on real charitable activities than it actually was. And finally, the RSPB used £32.5m to generate its £122 income.
The RSPB claims that it spent £82.5m (£29.6m + £34.7m + £14.2m + £4m) on "charitable activities". But most of these "charitable activities" seem to involve bureaucrats doing whatever bureaucrats do – writing vital reports, thinking very deeply about policy, sitting in very important meetings, making critical decisions and generally generating ever more work for themselves – and very little (just £29.6m) went to real conservation work.
Of course, some of this bureaucracy is necessary. But I doubt whether the good people putting their hard-earned money into the RSPB's bank account realise that only 26p in every £1 spent by the RSPB actually goes to real conservation work.
As for people buying stuff in the RSPB's shops – last year these shops raised £21m but cost £18.4m to run. So, out of every £1 spent in an RSPB shop, just 12p was left to be used for conservation and bureaucracy.
Perhaps the RSPB should change its name to the RSPBB – the Royal Society for the Protection of Birds and Bureaucrats?