Here they are, some of David Cameron's fine new government ministers:
Ooooh, there are an awful lot of them, aren't there?
Probably not many people know this – we have over 100 government ministers in Britain. About 90 of these 'ministers' are from the Commons and the rest from the Lords. This means that almost one in every three Tory MPs will be a government minister. Overall, 14% of all MPs will be a government minister. This is about twice as many as they have in France or Germany or even a joke country like Italy.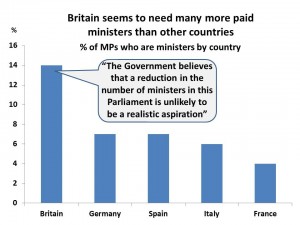 Why so many ministers? Because it gives MPs (and some Lords) yet another opportunity to pocket vast amounts of our money: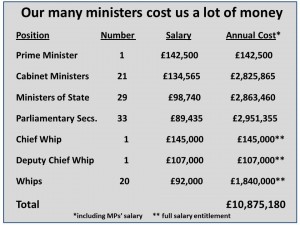 Top civil servants have been known to complain that they can't find enough things for all these ministers to do. And our government probably wastes hundreds of millions of pounds a year of our money as junior ministers launch all kinds of futile and unnecessary projects just to get some attention and further their own lousy careers.
One parliamentary committee wrote a report "What do ministers do?" recommending a significant cut in the number of paid ministers. Naturally, this report was rapidly-buried and no action was taken. Turkeys….don't vote….Christmas… etc
Given that the EU now makes most of our laws and our ministers and MPs have very little to do, we don't need many of these over 100 government ministers. In fact, we don't need 650 MPs any more – about 200 would be quite enough. The US Congress, for example, has just 435 members for over 250 million people. And the US Senate has 100 members whereas there are almost 800 greedy, expenses-fiddling scum in the Lords.
There is a Money Tree after all. It grows and flourishes in Westminster. Thanks to this Money Tree, our rulers are doing pretty well getting rich at our expense. So, next time you hear them trying to bluff their way to a pay rise and an increase in their already magnanimous expenses, remember that they are largely unnecessary and are already pocketing much more than most of them could possibly be worth.