To stick with the NHS for just one more day. It's over 20 years since I had the pleasure of investigating how one of our major hospitals was managed (or rather mismanaged). So, perhaps things have changed since then and the NHS is now super-efficient and positively humming with the latest management best practices.
But 20 years ago, we found that hospital management didn't have a clue. Let me try to explain:
A hospital should be seen as a patient processing machine. The object – to get patients in, treat them safely but efficiently and then discharge them (that's the top line on my simplified diagram). All services run by the hospital – pathology, radiology and others should be seen as supporting that goal:
So, for example, if a patient is about to move onto some treatment but first needs pathology results to move to the next stage, then that patient's pathology tests should be prioritised above those of a patient who perhaps won't start full treatment for another couple of days. All this in order to smoothe the flow of patients through the system. Similarly, if a doctor was doing a morning round, he or she could be pretty certain that the'd be called away. So they should always start with those patients who can possibly be discharged that day.
But we found no understanding of this at all. Each department seemed to organise itself to make its own life easier without any understanding of the consequences on managing patient throughput. So, patients had treatments delayed while waiting for pathology results or patients couldn't be discharged because the doctors didn't sign them out by 10.30 or 11.00am or whatever the time was.
Moreover, there was absolutely no measurement of the utilisation of expensive equipment like million-pound scanners or limited, bottleneck resources like operating theatre time. The result – huge waste of money on underutilised resources and unnecessary delays in treatment.
I've no idea whether NHS hospitals still suffer from this problem – a complete misunderstanding of how to manage resources to ensure the best patient throughput results – or whether the NHS is now a shining beacon of highly focused, world-class, best-practice management.
But the fact that since New Labour came to power in 1997, the number of hospital beds fell from around 200,000 to about 135,000
while the number of managers shot up from about 25,000 (8 hospital beds per manager) to over 40,000 (about 3.5 beds per manager):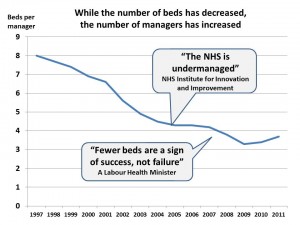 suggests that the NHS has learnt little to nothing and sees the solution to every problem as more managers rather than better management.
(You will see that the number of 'beds/manager' seems to have started to increase under the Coalition. The Coalition claims its NHS reforms have reduced the number of managers from a high of about 43,000 to about 38,000 now. This may be true. Or else, the NHS may be playing the classic civil service game – when told to reduce headcount, they hand out millions in redundancy or early retirement and then a few days later those people return as 'independent self-employed' consultants. So, we're still paying for them, but they don't appear on the employee headcount numbers. This allows politicians to claim huge success, while wasting even more of our money)
As for being 'cash-strapped' and 'underfunded' and 'on the brink of collapse'. For a start, the average managerial salary in the NHS has more than doubled in real terms over the last 15 years. Moreover, any organisation that adds an extra 15,000 or so managers each costing say over £100,000 a year (salaries, NI, pensions, offices and administrative support) – total cost above £1.5bn a year – possibly has a little excess weight that could be comfortably discarded if it went on a diet.
And as few of our politicians have ever managed anything in their lives, they haven't a clue how to improve NHS efficiency. So, they resort to the standard practice of fools – call in management consultants and reorganise, once again proving the old adage generally misattributed to Gaius Petronius: "We trained hard . . . but it seemed that every time we were beginning to form up into teams we would be reorganized. I was to learn later in life that we tend to meet any new situation by reorganizing; and a wonderful method it can be for creating the illusion of progress while producing confusion, inefficiency, and demoralization"